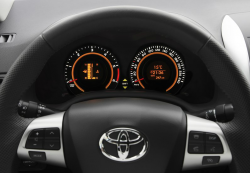 — Toyota Corolla unintended acceleration incidents don't warrant a federal investigation, at least according to the National Highway Traffic Safety Administration.
In a letter from September 2014, Toyota Corolla owner Robert Ruginis petitioned NHTSA to open an investigation into low-speed surging in 1,690,000 model year 2006-2010 Toyota Corollas. Ruginis claimed the cars could surge even with the brakes applied, something allegedly experienced by his wife in their 2010 Toyota Corolla.
Ruginis said the surge event caused his car to crash into another vehicle and the event data recorder proved the car kept moving forward with the brake pedal depressed. The petition also cited over 160 complaints about similar low-speed surge incidents in the subject Corollas.
The petition further cited two alleged serious events related to unintended acceleration in other Toyota models.
A 26-year-old bicyclist was struck and killed by the driver of a 2012 Camry, who according to police was halfway out of the space and stopped, when the vehicle suddenly accelerated.
A 2002 Camry XLE suddenly accelerated off the fourth floor of a casino parking garage. Two witnesses stated they saw the Camry easing into a space and come to a stop with the brake lights on, when the vehicle suddenly surged forward.
NHTSA declined to open a Corolla investigation after the agency said it tested the Corolla owned by Ruginis and could find nothing wrong, even after putting 2,000 miles on the car. The agency also said it proved the brakes could keep the car from moving even with the engine at full throttle.
NHTSA analyzed the event data recorder and determined the brakes weren't applied until after the crash, but additional information couldn't indicate if the gas pedal had been applied. Apparently the data recorder can't always read if the gas pedal is pushed in short rapid bursts.
The government said most of the Corolla complaints about unintended acceleration were caused by the gas pedal being pushed instead of the brake pedal. In other cases, problems were caused by people pushing both the gas and brake pedals at the same time, at least according to NHTSA.
"Taking into account the allocation of agency resources, agency priorities, and the likelihood that an additional investigation would result in a finding that a defect related to motor vehicle safety exists, NHTSA has concluded that further investigation of the issues raised by the petition is not warranted."
CarComplaints.com has heard from frustrated Toyota Corolla owners for years about their speed control and unintended acceleration problems. Read those complaints about the 2010 Toyota Corolla.