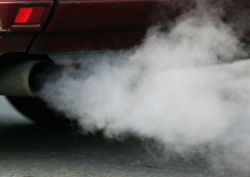 — Volkswagen will eventually recall about 482,000 diesel passenger cars after getting caught cheating by the Environmental Protection Agency (EPA). The EPA issued Volkswagen a notice of violation of the Clean Air Act alleging the maker of VW and Audi cars used a "defeat device" to get around EPA emission standards for air pollutants.
VW will likely face penalties of up to $37,500 per vehicle for violating the Clean Air Act, that could theoretically cost the automaker up to $18 billion in fines.
Separately, California is issuing its own notice to VW and both the EPA and the California Air Resources Board have opened investigations.
The EPA says the "defeat device" is sophisticated software on VW cars that detects when the car is going through official emissions testing. When the software recognizes an official test is underway, it turns on full emissions controls to make it appear the emission standards are within the rules. Once the official tests are completed, the emission controls are decreased during normal driving.
This means official testing will show the emission controls are working as they should, but outside the laboratory the cars emit nitrogen oxides up to 40 times beyond the standard allowed readings. In essence, the software "defeats" the official tests by providing false readings that don't apply doing routine driving.
The affected VW and Audi four-cylinder diesel cars are the:
2009–2015 VW Jetta
2009–2015 VW Beetle
2009–2015 Audi A3
2009–2015 VW Golf
2014–2015 VW Passat
Volkswagen was caught in the scheme by researchers at West Virginia University, working with the International Council on Clean Transportation. Researchers started asking questions which caused the EPA to demand answers from VW. The automaker relented and admitted the software was fooling the test machines.
The EPA tries to keep nitrogen oxides under control because they contribute to nitrogen dioxide and other pollutants that have been linked to increased asthma attacks and other respiratory problems.
The government says by using the defeat device to violate the Clean Air Act, VW has almost 500,000 vehicles on American roads that should have never been sold. All the cars were first sold in the U.S. starting in 2008, and although the automaker has been busted, the EPA says the cars can still be driven. However, the government is blocking VW from selling model year 2016 cars with 2-liter diesel engines.
If you own one of the affected cars and have questions concerning the legality of selling the car, the EPA says the vehicles aren't considered to have safety defects and it remains legal to drive and resell them.
Volkswagen will eventually recall all the cars to fix the emission controls, although how and when that will be accomplished is not yet known.
Read what owners complain about with the VW and Audi cars that will be recalled: