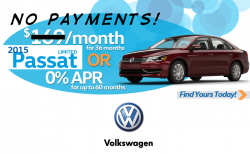 — A Volkswagen Credit lawsuit alleges VW diesel owners affected by emission "defeat devices" should not have to make monthly payments to VW Credit. The proposed class-action lawsuit is another legal quagmire for Volkswagen along with over 300 other lawsuits filed over "clean diesel" technology.
Montana resident Will Ballew filed the Volkswagen Credit lawsuit after buying a 2015 Volkswagen Jetta Sportwagon TDI diesel through VW Credit. Ballew says part of the reason he bought the vehicle was because of its advertised "clean diesel" engine technology that was both efficient and easy on the environment.
However, once VW admitted it had installed sophisticated software on diesel cars to fool official emissions tests, Ballew says VW violated its credit agreement. The plaintiff claims VW relied on "fraud" to become the leader in car diesel sales in the U.S. having achieved a 78 percent of diesel sales.
According to the VW credit lawsuit, although the automaker will recall the cars, there is no guarantee Volkswagen can fix the problems. Even if repairs are possible, the fuel efficiency and performance will sustain substantial changes and the cars won't perform as advertised.
According to the plaintiff, the Federal Trade Commission created a rule designed to prevent credit terms which compel consumers to pay a creditor even if the seller's conduct indicates the seller shouldn't be paid.
This allegedly means consumers can withhold payments pending resolution of their claims, including their claims for cancelation due to fraud.
The lawsuit alleges if the plaintiff and other VW owners continue to make monthly payments, they open themselves to the argument they have waived the fraud that caused them to finance the vehicles. According to the plaintiff, there should be no punishment for withholding payments due to Volkswagen selling cars with faulty emissions systems.
The lawsuit asks for an injunction to prevent VW Credit from accepting payments from customers on the affected diesel cars. Further, the plaintiffs want to prevent VW Credit from reporting negative information on credit reports for not making the payments.
The Volkswagen credit lawsuit was filed in the U.S. District Court for the District of Montana Missoula Division - Will Ballew, et al v. VW Credit, Inc.
The plaintiff is represented by Timothy M. Bechtold and Bishop & Heenan Law Firm.