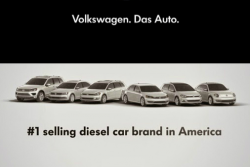 — The Volkswagen emissions scandal continues to expand as the automaker faces the threat of losing fuel economy and tax credits it received for so-called "clean diesel" cars.
Democratic Senator Ed Markey says VW should have never received credits for clean diesel technology when there was nothing "clean" about the emissions systems.
Markey says VW failed to legally meet federal Corporate Average Fuel Economy (CAFE) standards. Those standards are used to increase the fuel economy of consumer vehicles in the U.S., something Markey says Volkswagen accomplished through illegal means.
"VW's failure to use the proper emissions reduction technologies allowed its vehicles to operate more fuel efficiently, and thus also allowed VW to meet its CAFE standards without making the same vehicle design changes that other automakers had to make to meet their CAFE standards."
Markey says VW received CAFE credits that could have been used for regulatory and monetary benefit, all of which wouldn't have occurred without illegal emissions software.
Volkswagen is also facing the possibility of punishment for allegedly deceiving the federal government to receive tax breaks for diesel cars. VW pushed hard for customers to receive rebates for purchasing "clean diesel" technology that was good for the environment.
In 2009 alone, nearly 40,000 VW owners were eligible for a $1,300 rebate on cars that were emitting up to 40 times the legal limits of nitrogen oxides. Offering those rebates under fraudulent circumstances could open VW to both criminal and civil charges.
If prosecutors can prove VW made fraudulent emissions claims to win millions in tax breaks, Volkswagen could be looking at time in court for tax fraud. Any penalties would be in addition to the $18 billion VW could be fined for violating clean air laws in the U.S.
More Volkswagen Defeat Devices
Volkswagen is investigating if additional emissions defeat devices are installed on more vehicles than originally estimated. The current worldwide estimate is 11 million affected cars equipped with EA 189 engines. But now Volkswagen says additional diesel engines could be affected, namely vehicles with EA 288 engines.
The EA 189 engines with known defeat devices are found in the Volkswagen Beetle, Golf, Jetta and Passat. VW didn't mention how many additional cars could be affected if illegal emissions software was installed on EA 288 engines.
In addition, inside sources say it's possible the software may have been installed in as many as four engine models.
Those defeat devices have done more than violate emissions standards. According to a study conducted by MIT and Harvard, 59 U.S. residents will die premature deaths because of illegal Volkswagen emissions and even more people will die if the cars aren't fixed.