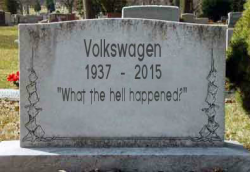 — Volkswagen lawsuits are growing by the day as VW owners, dealers and governments line up to sue the automaker for cheating on emissions tests. At least 70 Volkswagen lawsuits have been filed in the U.S. alone, with the latest VW emissions lawsuit coming from the state of Texas.
Harris County, Texas, filed suit against Volkswagen Group of America Inc. and Audi of America, LLC, alleging VW vehicles have harmed residents to the tune of $100 million. The Harris County lawsuit accuses VW of allowing about 6,000 of its diesel cars to travel in the area blowing off toxic nitrogen oxides that have harmed residents for years.
County authorities say in admitting to the use of defeat devices to fool official emissions tests, VW has caused opposite results as desired by the government. Harris County has worked to improve its air quality and protect residents while VW concealed the fact its diesel cars harm both air quality and local residents.
Other lawsuits have been filed by VW shareholders and even Volkswagen dealerships that feel the effects of VW's stupidity. A Canadian lawsuit has been filed for $1 billion and in the U.S., a massive lawsuit against VW has been filed by Girard Gibbs.
Let the Finger Pointing Begin
In response to the chaos, Volkswagen's board of directors held seven hours of discussions about what it called the "manipulation of diesel engine exhaust emissions." The board said a U.S. law firm will conduct investigations into how the defeat devices were installed and hidden for years, then the firm will report directly to the board with the results.
Volkswagen said the investigations will take "at least" several months and shareholders and the public will be kept updated about solutions to the problems.
The executive committee of Volkswagen's supervisory board said VW employees are currently being suspended, but board members didn't say which employees were targets. According to Deputy Chairman of the Supervisory Board Berthold Huber, the board was putting the blame at the feet of VW engineers and technicians.
"The test manipulations are a moral and political disaster for Volkswagen. The unlawful behavior of engineers and technicians involved in engine development shocked Volkswagen just as much as it shocked the public."
A Quick Fix (Unless You Live in the USA)
Volkswagen said it will offer a fix for the emissions systems by the end of October, but company sources say it won't apply to VW owners in the U.S. The automaker had reported it would "retrofit" affected vehicles to bypass the defeat devices, but the plans won't work in the U.S. where engineers will have a much tougher time.
VW vehicles sold in the U.S. have different versions of the affected diesel engines, all sold over a seven year period. A simple fix will likely be out of the question because changes will allegedly need to be made to both the software and hardware.
No Prison Time. Yet.
While lawsuits continue to multiply, criminal probes are forming to investigate VW's actions, although no prison time is expected for any senior staff or employees. A person could be fired or forced to resign from an automaker, but even when bad decisions have caused deaths and injuries, the people who made those decisions never worry about time behind bars.
Safety advocates have long argued the only way to keep auto executives and companies in line is with the threat of prison time instead of throwing financial penalties at automakers. Defective ignition switches from General Motors killed and injured hundreds of people over the course of 10 years, yet not one person will spend one day in prison.
But if you're a manager at a peanut plant and your actions harm people, that's a different story.
Numerous employees at Peanut Corporation of America were sentenced to heavy prison terms for their roles in a 2009 salmonella outbreak that sickened hundreds of people.
The former president of the company was sentenced to 28 years in prison, one manager was sentenced to 20 years, another to three years and another to six years in prison. Evidence presented at trial showed certificates were fabricated to allow the peanut products to be shipped, although in some cases no tests were ever conducted.
If those same people worked at an auto manufacturer and made decisions that caused harm to consumers, they would be sleeping in their own beds tonight.