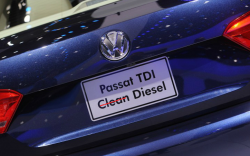 — Volkswagen couldn't talk German safety regulators into allowing "voluntary" recalls for cars equipped with software that cheats the system and makes official emissions tests obsolete.
VW had requested European regulators give the automaker the right to recall the diesel vehicles on VW's terms. However, that idea didn't fly with German officials who told VW it would be forced to recall 8.5 million diesel vehicles.
The Federal Motor Transport Authority said all affected 2.0 liter diesel engine cars will be recalled in Germany, a number that could reach close to 2.5 million vehicles. However, that number is just the beginning because under European Union rules, a total of 8.5 million vehicles will be recalled across 28 nations.
German VW owners won't have a choice about getting their vehicles repaired because with the mandatory recall, the cars must be fixed or kept off the roads.
Volkswagen is expected to create a software fix that will be implemented on all affected cars by the end of 2016. For cars equipped with 1.6 liter and 1.2 liter diesel engines, both software and hardware (physical changes) will need to occur to repair the cars. As part of the massive recall, Volkswagen is forced to remove all software and/or devices installed to cheat on emissions tests.
Unlike in the U.S. where less than 500,000 of the affected diesel vehicles are affected, Europe has a much larger market for diesel products which covers about 50 percent of the total vehicle population.
The mandatory recall is seen as Germany's answer to VW dragging its feet on coming up with a workable solution to the emissions crisis. VW still hasn't said what it will do to "fix" the vehicles other than saying some diesel vehicles will need only a change to the software, while other cars may need new engine components.
Some of those parts aren't expected to be ready until late-2016, with about 3.6 million engines needing new or re-built parts.
Just as with the Environmental Protection Agency in the U.S., German authorities will test cars to verify all repairs actually worked before the cars are certified.
Volkswagen is also under questioning about a possible second defeat device used to alter emissions readings in its 2016 diesel models. The results of those tests haven't been released.