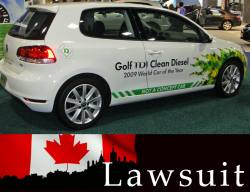 — Volkswagen has been sued in Canada for $1 billion after the automaker got caught using a "defeat device" to alter official U,S. emissions readings. Already facing the possibility of an $18 billion fine from the U.S. Environmental Protection Agency (EPA) and class-action lawsuits in the U.S., the automaker will have to answer to Canadian VW owners in court.
The Canadian Volkswagen emissions lawsuit includes all current owners and lessees in Canada of the following diesel vehicles equipped with 2-liter engines:
2009-2015 VW Jetta
2009-2015 VW Beetle
2009-2015 VW Golf
2014-2015 VW Passat
2009-2015 Audi A3
The "defeat device" used by Volkswagen is illegal and sophisticated software that turns full emissions controls on only during official emissions testing. The emissions controls are turned off or suppressed during routine driving by VW owners. This results in cars that meet emissions standards in the laboratory but during normal operations the diesel engines emit nitrogen oxides or other pollutants up to 40 times the standard allowed under Canadian or U.S. laws.
The lawsuit accuses Volkswagen of selling cars the automaker knew were giving off high levels of nitrogen oxides that cause serious health problems. Those oxides create ground-level ozone which has been linked to asthma attacks and other respiratory illnesses bad enough to send people to emergency rooms.
Unknown to the plaintiff and all affected Canada VW diesel owners, the automaker not only installed the defeat devices but then recalled some of those vehicles to fix problems caused by the devices. The recall didn't work and the VW cars kept showing emissions readings far above normal.
The lawsuit alleges if it already hasn't happened, what will eventually happen is the cars will lose value, lose fuel efficiency, will likely lose horsepower and owners will lose money.
Had Volkswagen disclosed its cars emitted up to 40 times the pollutants such as nitrogen oxides, VW owners either wouldn't have bought the cars or wouldn't have paid the amount Volkswagen wanted for the cars.
Canadian plaintiffs allege Volkswagen violated common law and legislative standards, was negligent, defrauded its customers and engaged in unfair competition.
Additionally, the plaintiffs claim VW knew regulatory authorities in Canada and consumers in Canada would rely on the improper testing and certification in the U.S.
Saying Canada depends heavily on what the EPA does in the U.S., every VW car in the U.S. had to pass emissions testing to receive a "certificate of conformity," something Canadian authorities watched for in allowing cars to be sold in that country. The diesel cars did receive certificates to be sold, but only because VW was cheating the system by using defeat devices.
The VW emissions lawsuit makes numerous claims against the automaker.
Volkswagen was negligent, committed fraud, deceit and breached duties of care.
Volkswagen manufactured, tested, sold or distributed cars which had a defeat device to evade proper clean air standards.
VW manufactured, tested, sold or distributed clean diesel cars on the basis of deceitful and fraudulent testing, certification and representations to consumers and regulatory authorities in the U.S. and Canada.
Volkswagen engaged in unfair, deceptive, and fraudulent business practices, and failed to disclose that under normal operating conditions the vehicles emit multiple times the allowed levels of emissions.
VW wrongfully charged a substantial premium for the cars for clean diesel technology that was far from "clean."
Canadian plaintiffs claim a recall of the affected diesel cars won't do much good because any changes to the software will affect engine performance. Not only will owners have cars that are different in performance, it's likely more money will be spent on additional fuel over the life of the cars. Further, decreased performance and fuel economy equals a decrease in vehicle value.
The lawsuit will be tough for VW to argue against because it's clear the automaker knew the defeat devices were on the cars because it was VW that installed the software. The software is sophisticated and used only to fool official emissions tests, and software like that takes a tremendous amount of resources and technological know-how.
The Volkswagen Canada emissions lawsuit was filed in the Court of Queen's Bench of Alberta Judicial Centre Edmonton.
The Canadian lawsuit was filed by plaintiffs represented by James H. Brown & Associates.
If you live in the U.S. and want to learn more about the Volkswagen emissions lawsuit for U.S. owners, visit GirardGibbs.com.