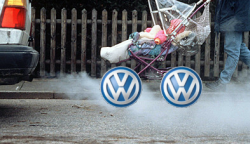 — Volkswagen says it could take years to fix all the vehicles that were altered to pass emissions tests in the United States.
Speaking before the House Committee on Energy and Commerce Subcommittee, VW CEO Michael Horn said U.S. vehicles wouldn't start being fixed until 2016 and it will take many years to repair all 500,000 affected vehicles.
Horn said he believes each vehicle will require 5 to 10 hours of work to bring the cars legal according to the standards set by the Environmental Protection Agency (EPA). However, Mr. Horn said it's possible repairs on the cars could cost more than the value of the cars.
Volkswagen's world fell apart when researchers at a West Virginia university noticed extremely high emissions of nitrogen oxides, up to 40 times beyond legal limits. After contacting the EPA with the confusing test results, the EPA challenged VW to explain the discrepancies. A year later, VW admitted 11 million vehicles worldwide had software installed that rendered official emissions tests worthless.
Calling it a "defeat device," the sophisticated software fooled the test machines by providing emissions readings within legal limits. But once out of the lab, the cars will revert to emitting nitrogen oxides at levels 10 to 40 times above the legal limit.
Volkswagen says it believes the defeat devices were illegally installed by a few bad-seed engineers who knew the expensive diesel engines couldn't legally pass emissions standards. Mr. Horn said a "couple of software engineers" installed the software "for whatever reason" and it was "not a corporate decision."
However, that reasoning doesn't fly with people who know the automotive industry. Horn expects outsiders to believe a couple of engineers not only fooled the EPA and other countries concerning 11 million vehicles, but Horn is asking people to believe those same "couple of software engineers" also fooled everyone at Volkswagen for over seven years?
Admitting it is "inconsistent that the company involved in this emissions issue is also a company that has invested in environmental efforts to reduce the carbon footprint in our factories around the world," Horn said three engineers have been suspended. However, Horn didn't say what evidence VW had concerning those engineers.
Knowing that any alterations to the emissions system could cause a change in horsepower and fuel economy, Mr. Horn told committee members Volkswagen would consider a buy-back program for all affected vehicles. It's estimated that based on current values, the cost for such a program could reach $7 billion just for the Volkswagen vehicles on U.S. roads.
Volkswagen is also considering rebates to owners based on the loss of value, an issue VW will face in numerous class-action lawsuits that have been filed in the U.S. and Canada.
Saying he "did not think that something like this was possible at the Volkswagen Group," Horn admitted the automaker has "broken the trust of our customers, dealerships, and employees, as well as the public and regulators."
Committee members seemed bewildered by Volkswagen's conduct and why an automaker would lay its entire reputation on the line solely to sell diesel cars.
"It seems Volkswagen had a dirty little secret, and it's not just consumers who are feeling betrayed. There are many unanswered questions and we will get the facts and the answers that the American people deserve." Committee Chairman Fred Upton (R-Michigan) and Oversight and Investigations Subcommittee Chairman Tim Murphy (R-Pennsylvania)
Volkswagen's Emissions Cheating Allegations: Initial Questions