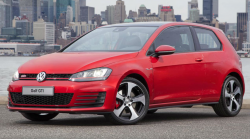 — The dreaded Bosch fuel pump curse has hit Volkswagen as the automaker announced over 6,200 cars could die in the middle of the roads. VW says the recalled cars are the 2015 Volkswagen Golf, GTI and Audi A3.
Other car manufacturers (BMW and Nissan) have recently issued recalls to replace the same defective Bosch fuel pumps that have problems with the nickel plating inside the pump components.
The fuel pumps can become contaminated from the nickel plating and cause too much friction inside the pumps. The failure of the fuel pump will cause a car to stall without warning, all without the ability to re-start the car.
VW says it's not aware of any accidents or injuries caused by the faulty fuel pumps.
Bosch told Volkswagen the bad fuel pumps were manufactured on the following dates: November 04, 2013, November 25, 2013, and February 10, 2014.
VW hasn't set a date for the Bosch fuel pump recall, but dealers will need to inspect and replace any bad fuel pumps in the 2015 Volkswagen Golf, GTI and Audi A3.
Affected owners can contact Volkswagen at 800-893-5298 or Audi at 800-253-2834.
Audi Q3
In a separate recall, over 3,640 model year 2015 Audi Q3 crossover SUVs are called back to fix sunroof problems. Audi says if the vehicle is turned off while the sunroof is closing, the sunroof should immediately stop closing. The problem is, the sunroof is not doing that. It could be a dangerous condition if the sunroof keeps closing even though the key is turned off.
The recalled 2015 Audi Q3 vehicles were manufactured April 4, 2014, to November 5, 2014.
Owners of the 2015 Audi Q3 should have received their recall notices with instructions to get the cars to dealerships for an update to the software that runs the sunroof control modules.
Audi Q3 owners with questions should contact Audi customer service at 800-253-2834 and give them recall number 60C1.
Read owner-reported complaints about the vehicles named in the two recalls: