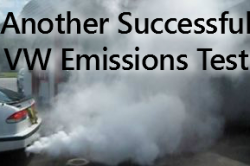 — The Volkswagen CO2 emissions list has grown by 430,000 new vehicles that have inaccurate carbon dioxide (CO2) values. This is in addition to the 800,000 vehicles located outside the U.S.
The automaker says this latest batch of 430,000 vehicles are all 2016 model year vehicles with incorrect CO2 values that will necessarily alter fuel economy values.
Although different than the illegal nitrogen oxide emissions from 11 million VW diesel vehicles, the CO2 problems will add to VW's list of violations and become another target for lawsuits.
The current nitrogen oxide emissions scandal is caused by special sophisticated software that gives false emissions readings during official emissions tests. Called a "defeat device," the software affects nitrogen oxide emissions in about 500,000 VW vehicles in the U.S. and 11 million worldwide.
In comparison, VW hasn't said what is causing the false CO2 estimates and the automaker hasn't said which countries are affected.
VW has been trying to determine which 2016 models should be added to the CO2 emissions list and so far the following new models are known to have problems.
Audi A1
Audi A1 Sportback
Seat Ibiza 5 Türer
Seat Ibiza 3 Türer
Seat Ibiza Sport Tourer
Seat Toledo
Seat Leon
Seat Leon SC
Seat Leon Sport Tourer
Skoda Fabia
Skoda Fabia Combi
Skoda Rapid
Skoda Yeti
Skoda Octavia
Skoda Octavia Combi
Skoda Superb
Skoda Superb Combi
Volkswagen Polo
Volkswagen Tiguan
Volkswagen Jetta
Volkswagen Scirocco
Volkswagen Golf Cabriolet
Volkswagen Golf
Volkswagen Golf Sportsvan
Volkswagen Touran
Volkswagen CC
Volkswagen Passat
Volkswagen Caddy
Volkswagen T6
Volkswagen says it has notified the authorities concerning the latest CO2 findings as well as informing importers and trading partners. The automaker is also working with the German Federal Vehicle and Transport Authority to determine exact CO2 figures.
The automaker already has a mess with tax issues in numerous countries and wants to make sure any tax burdens are on the shoulders of Volkswagen, not owners.
Volkswagen might sound as if it has come clean on its own about "clean diesel" engines that aren't, but the automaker wouldn't be talking about any of this if it hadn't been caught cheating.
CarComplaints.com has complaints about many of the Volkswagen vehicles added to the CO2 emissions list: