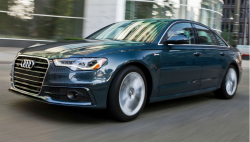 — Audi is recalling about 21,000 A6 and A7 cars equipped with heated/cooled seats. The automaker says the 2012-2013 Audi A6 and A7 have climate control seats with passenger occupant detection system modules that can malfunction.
Audi says stress and wear can cause problems with an internal connector or body-sensing mat inside the front passenger seat. If the module malfunctions, the airbag warning light will activate and the words "Passenger Airbag OFF" will appear.
The occupant system is meant to generate information about what kind of passenger is in the front passenger seat. It's possible the system could deactivate the passenger airbag even though someone is in the seat.
The recalled 2012-2013 Audi A6 cars were manufactured March 28, 2011, to March 25, 2013, and the 2012-2013 Audi A7 vehicles were manufactured January 25, 2011, to March 19, 2013.
The recall should begin in February 2016. Audi dealers will install a passenger occupant detection system repair kit, but until then, owners can contact Audi at 800-253-2834. The A6 and A7 recall number is 74D1.
CarComplaints.com has complaints about the Audi A6, Audi A7 and other models of Audi cars.