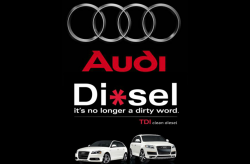 — Audi emissions defeat devices have allegedly been found by California environmental regulators, something that could affect hundreds of thousands of cars worldwide and cause government officials to take an even deeper look into Volkswagen's conduct.
According to the German paper Bild am Sonntag, the California Air Resources Board (CARB) found the defeat device months ago tucked away in the automatic transmission of a 3-liter gasoline Audi car.
If the report is verified by Audi or CARB, the defeat device will be viewed as completely separate from the software used in about 11 million Volkswagen and Audi diesel vehicles worldwide. About 475,000 of those 2-liter "clean diesel" cars are in the U.S.
According to Bild am Sonntag, the emissions software was allegedly installed on hundreds of thousands of vehicles that use the AL 551 automatic transmission, including the Audi Q5, A6, A8 and others.
The defeat device is activated by reading the movements of the steering wheel to recognize when the car is tested in a lab.
The report says CARB engineers decided to do something different with the emissions test, so they turned the steering wheel that would have typically not been touched during the test. Engineers determined that by simply turning the wheel 15 degrees, the car immediately started emitting higher levels of carbon dioxide.
In real-world terms, the car will pass an emissions test in the lab but once back on the road, the vehicle will emit higher carbon dioxide emissions and get lower gas mileage.
The German report says CARB determined the devices were installed on 3-liter gasoline-powered Audi cars until May 2016, long after the Volkswagen emissions scandal hit the airwaves.
The German paper says the defeat device keeps the transmission running in a "warm-up" mode, but when a consumer drives the car, the transmission warm-up mode is switched off.
Who Knew What and When?
Bild says a document was found that will add fuel to the fire, and if confirmed it will leave no doubt that Audi management knew about the defeat devices.
Volkswagen's boss of the powertrain division, Axel Eiser, allegedly asked a question he probably didn't want made public. According to the internal document, Eiser asked when the "cycle-optimized shift program" would be ready for use.
The next part provides a clue as to what that "program" is used for, as Eiser allegedly says the program "needs to be designed to be 100% active on the dyno [test machine], but only 0.01% in the hands of the customer."
So far CARB hasn't commented on the German report and Volkswagen hasn't said a word. CarComplaints.com will update our website once people start talking.
Update: (11-12-2016) Volkswagen and Audi today confirmed the 3-liter defeat devices are under investigation by European and U.S. investigators.