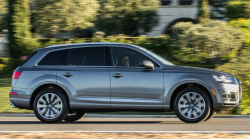 — More than 14,500 Audi Q7 SUVs are recalled, another recall based on faulty software associated with airbags. Audi says the front airbags can deploy with too much force and injure occupants, but the automaker didn't say much about the recall or which company manufactured the airbags.
The 2017 Audi Q7 SUVs can allegedly be fixed by a simple software update and no repairs to the airbags are required.
Audi says the software problem occurs in the airbag control module and can cause the airbag system to wrongly classify the severity of a crash. An airbag should deploy with a force adequate only to protect an occupant based on the impact of a crash, but the software error can cause a forceful impact too great for a minor crash.
The automaker conducted an internal investigation in March 2016 and in May started testing the airbag software update to make sure it worked. It did.
Audi says the 2017 Q7 SUVs were produced from August 30, 2015, to May 8, 2016, and all 14,500 will need the airbag control module software updated.
A recall schedule hasn't been announced but owners of the 2017 Audi Q7 SUVs can contact the automaker at 800-253-2834 and request information about recall number 69O3.
Read what owners have told CarComplaints.com about the Audi Q7 and many other Audi vehicles.