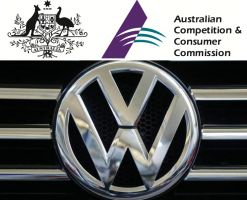 — The Australian Competition and Consumer Commission (ACCC) has filed a lawsuit against Volkswagen alleging misleading or deceptive conduct concerning diesel emissions. The lawsuit also accuses VW of making false or misleading statements to Australian customers to continue selling illegal vehicles.
The lawsuit alleges Volkswagen installed emissions "defeat devices" in tens of thousands of Australian vehicles without telling customers about the illegal software. As in the U.S., the devices produce lower nitrogen oxide emissions in a laboratory but switch to a different setting once the vehicles are under normal driving conditions.
Saying VW clearly mislead customers about "clean" diesel emissions, the ACCC says VW ripped off owners of the following vehicles:
2011-2012 Volkswagen Amarok
2010-2015 Volkswagen Caddy
2009-2014 Volkswagen Eos
2009-2013 Volkswagen Golf
2009-2015 Volkswagen Jetta
2008-2015 Volkswagen Passat
2008-2012 Volkswagen Passat CC
2009-2014 Volkswagen Polo
2008-2015 Volkswagen Tiguan
2011-2015 Volkswagen CC
The ACCC alleges Volkswagen engaged in multiple breaches of Australian consumer laws by selling 57,000 illegal diesel vehicles to customers.
Saying VW committed "extraordinary conduct of a serious and deliberate nature by a global corporation," the lawsuit says consumers deserve a company with higher standards than VW.
The ACCC also accuses the automaker of falsely advertising diesel vehicles that cost more because they are more friendly to the environment and the health of consumers.
Volkswagen could face penalties of more than $1 million for each violation of consumer laws, but the ACCC didn't specify how many total violations are possible.
Considering VW is still looking at multiple lawsuits across the world, the automaker says the Australian lawsuit is unnecessary because affected owners will one day have their vehicles repaired under recall.