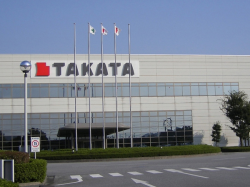 — Federal safety regulators say that even if airbag manufacturer Takata files for bankruptcy, automakers are responsible for covering the cost to replace defective Takata airbags.
The National Highway Traffic Safety Administration (NHTSA) says it is particularly concerned about 313,000 older Honda vehicles that need their airbags replaced.
NHTSA says Honda hasn't done enough to reach registered owners, even though Honda says it is sending people to the homes of certain owners of 2001-2003 vehicles.
Honda has went to extremes to contact affected owners and convince them to have the airbags repaired, but owners continue to ignore the advice. NHTSA says airbags in those 313,000 older Honda cars have a 50 percent chance of exploding in a crash.
With most of the deaths so far having occurred in Honda vehicles, the automaker has been hit hardest by Takata's failures. The recent death of a California woman in a Honda Civic showed the registered owners were mailed more than 20 recall notices since 2008 but the car was never repaired.
Takata Airbag Injuries
While Honda tries to track down owners of older vehicles, two North Carolina lawsuits claim Takata airbags caused serious injuries after the airbags exploded in General Motors and Honda vehicles.
Attorneys are asking for more than $1 billion in damages related to incidents that allegedly occurred in a 2014 Chevy Silverado and a 2001 Honda Accord.
Plaintiff David Earl Ebron Jr. says he was driving the 2014 Chevrolet Silverado when the driver-side airbag exploded even though there was no crash involved.
Ebron claims he suffered broken bones in his face and the impact from the airbag was so great that he was knocked out. The plaintiff claims his foot stayed on the accelerator and sent the truck crashing into a pole and tree.
However, GM and Takata say there is a big problem concerning the claims about the driver-side airbag in the Chevrolet Silverado. Both companies say Takata airbags aren't installed as driver's side airbags in the 2014 Silverado.
A separate Takata airbag lawsuit claims the driver-side airbag exploded when a 2001 Honda Accord crashed in North Carolina.
Valissa Dillard says she was involved in a crash on July 31, 2016, that caused the airbag to explode, causing her to suffer brain damage in addition to injuries to her nose, mouth, teeth and right eye.