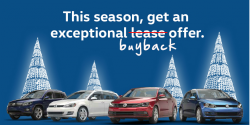 — A Volkswagen Canada settlement agreement has been reached that will see VW pay Canadian diesel owners as much as $2.1 billion CAD (Canadian dollars) as compensation for selling about 105,000 vehicles that emit illegal levels of nitrogen oxides.
Canadian Volkswagen diesel owners have waited for the day they would see a program similar to what is offered to U.S. customers, and while final approval won't occur until March 2017, the settlement terms have been agreed upon by both sides.
The proposed Canadian settlement includes the following 2-liter diesel vehicles:
2009-2015 Volkswagen Jetta
2009 Volkswagen Jetta Wagon
2013-2015 Volkswagen Beetle
2010-2013, 2015 Volkswagen Golf
2010-2014 Volkswagen Golf Wagon
2015 Volkswagen Golf Sportwagon
2012-2015 Volkswagen Passat
2000-2013, 2015 Audi A3
Canadian owners will receive between $5,100 and $8,000 in compensation along with a few options. Any eligible owner can choose to trade their vehicle and apply its fair market value at that time towards the purchase of a new or used Volkswagen or Audi vehicle.
In addition, they will receive payment of any amount by which their vehicle's wholesale value as of September 18, 2015, exceeds its fair market value at the time of the trade-in.
An affected consumer who leased their Audi or Volkswagen vehicle will have the option of terminating their lease without penalty.
The $2.1 billion assumes every eligible owner will choose the buyback option, but owners may also choose to have their vehicles repaired and receive an extended warranty. However, that option may be impossible if Volkswagen doesn't create a way to fix the vehicles.
The proposed settlement still needs to be approved and finalized by two courts: the Ontario Superior Court of Justice in Toronto and the Superior Court of Québec in Montréal. That won't take place until March 2017, but no problems are expected as all parties have agreed to the settlement terms.
Attorneys for the plaintiffs say that under the circumstances, the settlement is better than anything seen in Canada and trying to compare it to the U.S. settlement isn't possible because the U.S. allows "treble damages," something not allowed in Canada.
Volkswagen says it believes the offer is fair and will help rebuild trust among Canadian consumers, dealers and regulators.
In addition to the settlement with owners, Volkswagen Group Canada has agreed to resolve civil consumer protection claims by paying an additional CAD $15 million penalty.
Attorneys say their legal fees and expenses, once approved by the court, will not be deducted from the settlement money available for owners.
The Canadian settlement applies only to owners of 2-liter VW and Audi vehicles, leaving 3-liter owners guessing what will happen with their illegal vehicles. Separate class-action lawsuits will eventually conclude that story.
Eligible 2-liter diesel owners cannot submit a claim until the settlement receives approval by the courts. Audi and Volkswagen owners in Canada have the choice to object or opt out of the settlement if they do so by March 4, 2017.
More information can be found at www.VWCanadaSettlement.ca.