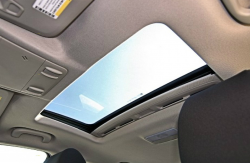 — Owners of Chevrolet Cruze and Buick Regal cars with sunroof problems can get their sunroof replaced under a GM replacement program to keep the sunroofs from shattering.
Covered are the 2014-2015 Chevy Cruze and 2015 Buick Regal with sunroof glass that can explode and shatter while driving. GM says the sunroof glass may have an "abnormal condition" that can cause the glass to break. The "abnormal condition" is believed to be glass that is not thick enough.
The owner of a 2014 Chevy Cruze said they learned of the exploding sunroof problem when glass rained down into their face.
"While driving the vehicle on the highway at 68 mph with no traffic alongside nor in front of me the sunroof glass shattered voluntarily causing small shards of glass to fall into my face and clothing as well as outside the top of the vehicle. The sun shade was open and the glass on closed on the roof and not vented. There was no chance of road debris hitting the closed sunroof nor was there an overpass from anything to fall off from to make impact. The glass exploded and spider-webbed the entire sunroof." - 2014 Chevrolet Cruze owner / Troy, Michigan
GM dealers will use an electronic digital caliper with a depth measuring feature to measure the thickness of the glass. If the glass thickness is within specification, no action will be taken. Measurements outside of certain limits will require replacement of the sunroof glass.
Dealers have been told to perform the service through December 31, 2017, regardless of mileage, age of vehicle or ownership. GM says it will provide courtesy transportation if needed for Regal and Cruze owners.
Buick Regal owners should call 800-521-7300 and Chevrolet Cruze owners can call 800-222-1020.
CarComplaints.com has owner-reported complaints about the Chevrolet Cruze and Buick Regal.