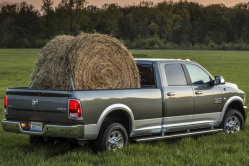 — Fiat Chrysler (FCA US) is recalling 86,000 trucks and cars because they can stall or catch on fire from short circuits in the alternators.
Dodge made "Ram" its own brand in 2012, so the recalled trucks are broken down as the following:
2007-2011 Dodge Ram 2500, 3500, 4500 and 5500
2012-2013 Ram 2500, 3500, 4500 and 5500
Also recalled are model year 2011-2014 Dodge Charger Pursuits.
FCA says a supplier sent Chrysler alternators with diodes that can wear out from what the automaker calls "frequent load cycling."
FCA says the problem occurs with the alternator near maximum amperage in hot temperatures, conditions more likely to be experienced with corporate fleet vehicles compared to typical consumer driving. In fact, it was an investigation of corporate fleet vehicles that caused the decision to recall the trucks and cars.
The conditions are perfect for electrical shorts that can cause the engines to stall or the vehicles to catch on fire. The automaker says one injury looks to have been caused by the alternator defect, but Chrysler is unaware of any related accidents.
About 74,833 vehicles are recalled in the U.S., with an additional 10,077 vehicles recalled in Canada, 1,088 in Mexico and 134 outside North America.
The alternators will need to be replaced but right now Chrysler doesn't have the parts.Parts are not currently available, Beginning on November 25, 2016, owners will be notified of the recall and they will be sent a second letter when parts are available.
Owners may contact Chrysler at 800-853-1403. Chrysler's number for this recall is S68.
Read owner-reported complaints about the trucks and cars named in the alternator recall:
(This page was updated October 25, 2016)