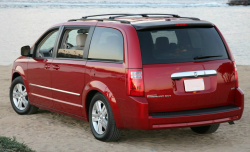 — Fiat Chrysler is recalling 112,000 vehicles with airbags manufactured by Continental Automotive Systems. The recalled vehicles are the 2009 Dodge Journey, 2008-2009 Dodge Grand Caravan and Chrysler Town and Country and the Chrysler-made 2009 Volkswagen Routan.
Chrysler opened an internal investigation in July 2015 to find out why a 2009 Dodge Journey airbag deployed for no apparent reason. The automaker later found 13 potential inadvertent airbag deployments with airbags made by Continental Automotive Systems, the company that recently recalled 5 million airbags.
Continental says the airbags can be affected by moisture, the same problem that has caused millions of Takata airbags to be recalled. However, the Takata situation is much different because the airbags are exploding and killing people. Takata believes moisture is altering the explosive chemical used to deploy the airbags.
In the Continental recall, moisture can cause the airbags to fail in a crash, or cause the airbags to deploy without a crash. However, there are no worries about airbags that explode like grenades.
Continental says titanium nitride corrosion of the power supply integrated circuit can occur from humidity entering the airbag parts. The humidity causes corrosion that can lead to electrical overstress of the airbag squib activation circuits resulting in an inadvertent airbag deployment.
The recalled SUVs and minivans were manufactured during the following periods:
2009 Dodge Journey: Manufactured December 31, 2007, to August 31, 2008.
2008-2009 Dodge Grand Caravan and Chrysler Town and Country: Manufactured June 18, 2007, to August 31, 2008.
2009 Volkswagen Routan: Manufactured August 11, 2008, to August 31, 2008.
Fiat Chrysler doesn't know when the recall will begin, but the automaker says dealers will replace the airbag control unit.
Owners may contact Chrysler customer service at 800-853-1403 and use recall number S07.
CarComplaints.com has complaints about the vehicles named in the airbag recall: