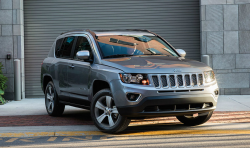 — Fiat Chrysler is recalling nearly 50,000 model year 2016 Dodge Journey, Jeep Compass and Jeep Patriot SUVs to fix sensor problems that cause the engines to stall.
Chrysler says the crankshaft or camshaft sensors can malfunction and cause the engines to stall or fail to start, a problem the automaker discovered during a review of warranty claims.
The SUVs, equipped with 2.0-liter or 2.4-liter 4-cylinder engines, were built May 9, 2016, to July 15, 2016, and all need the sensors replaced.
About 43,071 of the SUVs are in the U.S., another 3,385 vehicles are in Canada, along with 487 in Mexico and 2,830 outside North America.
The recall should begin January 27, 2017. Owners of the recalled 2016 Dodge Journey, Jeep Compass and Jeep Patriot SUVs may call the automaker at 800-853-1403 and refer to recall number S89.
CarComplaints.com will update this page when the National Highway Traffic Safety Administration releases additional details about the SUV recall.
Separately, a small recall is ordered to fix 23 model year 2017 Ram ProMaster vans because the side airbag inflator initiators may fail to ignite in a crash, leaving an occupant unprotected. Chrysler says the airbag will completely fail to inflate if the initiator doesn't ignite.
The ProMaster vans were built October 1, 2016, to December 7, 2016.
The vans will need the seat mounted side airbags completely replaced, something that will begin when the recall starts on January 28, 2017. Until then, Ram ProMaster customers with questions may call Fiat Chrysler at 800-853-1403 and ask about recall number S96.
Read what owners say about their Dodge Journey, Jeep Compass, Jeep Patriot SUVs and Ram ProMaster vans.