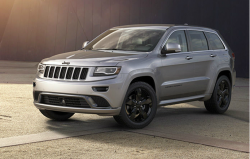 — Fiat Chrysler (FCA US) is recalling more than 36,000 model year 2016 Jeep Grand Cherokee SUVs with gear shifters that can get locked in "park" or "neutral" when the SUVs are brought to a stop. It doesn't take too wild of an imagination to realize the various headaches this could cause.
Chrysler says the defect was traced to a wire harness terminal that can lose its electrical connection because the harness wasn't crimped correctly. The loose connection is located in the brake transmission shift interlock solenoid, something that could cause a loss of solenoid function.
FCA says an assembly plant discovered the problem on January 25, 2016, when the plant identified 19 SUVs with active and stored diagnostic trouble code P0931-00 (Gear Shift Lock Solenoid/Actuator Control Circuit A High). An investigation showed an incorrect wiring crimp sheared off portions of the wire strands causing weak retention of the wire to the terminal.
The root cause was determined to be the wearing on one side of the terminal crimp tool used in the assembly process.
Although a locked gear shifter could be trouble on the road, the automaker says it's unaware of any accidents or injuries related to the problem.
About 32,267 of the Jeep Grand Cherokees are in the U.S., an estimated 2,095 SUVs are in Canada, 538 are in Mexico and 2,472 are outside North America.
Chrysler is recommending every affected Jeep owner use their parking brake when leaving the SUV.
The Jeep Grand Cherokee recall should begin May 27, 2016, when Chrysler dealers will replace the shifter assembly.
Owners of the recalled 2016 Jeep Grand Cherokees can contact Fiat Chrysler at 800-853-1403 and use recall number S28.