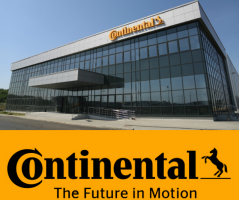 — Continental Automotive Systems is recalling 5 million airbags manufactured from January 1, 2006, to December 31, 2010. The problem is not related to the ongoing saga of Takata airbags that explode and maim people.
The Continental airbags have problems with corrosion inside an airbag component that can cause the airbags to fail in a crash. In some cases, the airbags can deploy without a crash occurring.
Back in January 2008, Continental received an airbag control unit that had been removed from a Daimler vehicle after the owner complained about a warning light illuminating. An investigation determined problems existed with a power supply component known as ASIC (application-specific integrated circuit).
That component is used to determine if a child or adult is sitting in a seat, and based on that, the airbag will deploy or not deploy in a crash.
The problems with the Continental airbags concern corrosion in the semiconductor material that could cause swelling in the semiconductor. That swelling can cause problems with the electrical connections and failure of the airbags to deploy, or cause the airbags to deploy without a crash.
Countermeasures were introduced as a possible fix for the problem, based on reducing the corrosion of the component. Continental notified the automakers and all continued to monitor the situation.
In 2011, Continental learned about two incidents where airbags deployed in Daimler and Chrysler vehicles. In March 2013, Continental started a service campaign on certain vehicles outside the U.S., then in April 2015, Honda asked Continental to check an airbag from a 2008 Honda Accord.
The Accord had been involved in a crash and then was the focus of a lawsuit, and Continental determined the ASIC had malfunctioned.
In August 2015, the National Highway Traffic Safety Administration opened an investigation into airbags in 384,000 model year 2008 Honda Accords.
Additional automakers jumped into the ring when in October 2015, Mercedes-Benz filed a defect report and ordered a recall concerning the Continental airbags.
Continental says it is aware of 521 field returns involving 3 million airbags produced from 2006 until the first countermeasure was introduced. After the alleged "fix" was implemented, 81 field returns occurred out of about 2 million airbags that were manufactured.
The airbag manufacturer says it created a final fix for the airbags that seems to have taken care of the problem.
Continental is now contacting all automakers affected by the airbag problems, then each automaker will begin ordering recalls.
The first automaker out of the recall gate is Honda and its recall of 341,000 Accords. Next up is Fiat Chrysler and its recall of 112,000 minivans and SUVs.