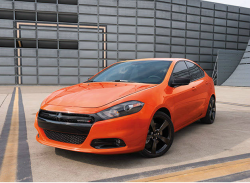 — Fiat Chrysler (FCA US) is recalling more than 54,000 model year 2016 Dodge Darts because the windshield wipers can fail due to short circuits.
Chrysler opened an internal investigation in February 2016 after receiving a warranty claim for a 2016 Dodge Dart concerning windshield wipers that failed because of a circuit failure in the body control module.
Engineers contacted the supplier and a mutual investigation was opened into the body control modules, then FCA learned of another warranty claim about the wipers.
In April 2016, engineers were able to duplicate the failure of the body control module and in May had identified the cause as transient voltage spikes coming from the windshield washer pump.
Chrysler says it isn't aware of any injuries or accidents related to the wiper problems, but hundreds of warranty claims have been recorded.
The recalled 2016 Dodge Darts were built April 13, 2015, to June 7, 2016, with 53,155 of the recalled cars in the U.S., 1,057 in Canada and about 43 Dodge Darts in Mexico.
The Dodge Dart recall should begin December 19, 2016, when dealers will begin to replace the windshield wiper washer pumps.
Dodge Dart owners with questions should call FCA at 800-853-1403 and give them recall number S83.
This is the second recall this year for the 2016 Dodge Dart after 1,200 of the cars were recalled to fix problems with the powertrain control modules.
Chrysler says the cars, equipped with manual transmissions and 2-liter engines, can experience "torque events" due to missing software within the powertrain control modules.
Read complaints as submitted to CarComplaints.com about the Dodge Dart and many other Dodge vehicles.