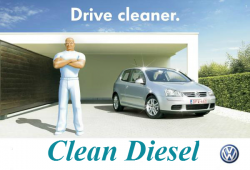 — Volkswagen has another lawsuit to contend with as the Federal Trade Commission (FTC) announces false advertising charges against the automaker.
It was only a matter of time, considering VW has admitted lying to the world for seven years about alleged "clean diesel" technology. The diesel vehicles, about 600,000 in the U.S., are equipped with illegal software that causes the cars to pass official emissions tests, then emit up to 40 times the legal limits of nitrogen oxides once the cars are back on the highways.
Those nitrogen oxide emissions cause serious health problems associated with the heart and lungs, especially to the young and elderly.
Because VW has admitted the vehicles have been illegal for seven years, this necessarily means the advertising to sell those cars has also been illegal. That's where the FTC lawsuit comes in.
The government accuses Volkswagen of deceiving consumers with advertisements for "clean diesel" Audi and VW vehicles from 2008 to 2015. The FTC charges the automaker with false claims about the diesel vehicles being low-emission, environmentally friendly and meeting all emissions standards. Additionally, the FTC charges VW with false claims that the vehicles would maintain a high resale value.
The FTC says on average, the diesel vehicles sold for $28,000, with some vehicles costing up to $125,000. A lot of money to spend for a vehicle that should have never been certified for sale in the first place.
Saying Volkswagen's practices were "deceptive and unfair," the FTC complaint alleges VW used high-profile methods to advertise its illegal diesel cars, including running ads during the Super Bowl. Those advertisements targeted environmentally-conscious consumers who purchased the cars under the belief it would be good for the environment.
In some advertisements VW specifically mentioned nitrogen oxide emissions, including by saying the "clean diesel" vehicles reduced nitrogen oxides emissions by 90 percent and have fewer such emissions than gasoline cars. In truth, the vehicles emitted nitrogen oxide emissions 4,000 percent more than the legal limits.
The FTC further charges Volkswagen of providing the means for others to deceive consumers, namely TV, radio, newspapers, magazines and other media that ran the false ads.
The FTC is seeking a court order requiring Volkswagen to compensate American consumers who bought or leased an affected vehicle between late 2008 and late 2015, as well as an injunction to prevent VW from engaging in this type of conduct again.