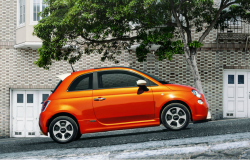 — Fiat Chrysler (FCA US) says more than 16,500 electric Fiat 500e cars are at risk of coming to a slow stop as they lose the ability to move forward. The 2013-2016 Fiat 500e electric cars have voltage problems related to "power inverter modules" (PIMs) that can cause a loss of vehicle propulsion.
Engineers discovered three failure modes that could cause a loss of vehicle propulsion, something that caused dealers to begin using different diagnostic software.
FCA says the root cause for the failures is changes in the voltage on the PIM ground lines that cause the software to falsely diagnose the changes as voltage spikes, or over-voltage conditions.
Chrysler says the PIM and software used in the 2013-2016 Fiat 500e cars is unique and not found on other vehicles, and model year 2017 Fiat 500e vehicles will be manufactured with the updated software.
As of April 29, 2016, FCA identified 144 "customer assistance inquiry records" (CAIRs), 247 field reports and 17 "vehicle owners' questionnaire" (VOQ) forms, all related to a loss of motive power. The automaker also received hundreds of warranty claims related to PIM problems.
The 2013-2016 Fiat 500e all-electric cars were built March 22, 2012, to January 29, 2016.
Chrysler doesn't know when the Fiat 500e recall will begin, but interim notifications will be sent to owners in June 2016. The automaker will send a second notice when the needed software is available.
Owners of the 2013-2016 Fiat 500e cars can always contact Fiat Chrysler at 800-853-1403. Chrysler's number for this recall is S26.
Read complaints sent to CarComplaints.com about the Fiat 500e and other Fiat models.