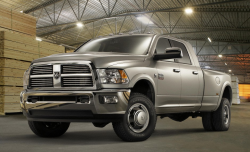 — Fiat Chrysler (FCA US) is recalling about 890 model year 2016 RAM 3500, 4500 and 5500 trucks to fix serious problems with the transfer cases.
Chrysler first heard about possible problems with a truck that wouldn't move unless it was in 4-wheel-drive. It was determined the transfer case main shaft had fractured and was replaced. The automaker says the fractured main shaft contained "voids," so it was returned to the supplier for analysis.
Investigations found two main shafts with voids in the supplier inventory, a problem traced to a forging cycle interruption allowing parts to cool. After additional warranty claims were received about the shafts, engineers determined a "chevron shaped void" could cause a broken main shaft which will result in a loss of torque transfer in 2-wheel-drive.
In addition to the truck not moving, it was determined that PARK could be affected, but not if the truck was in 4-wheel-drive. FCA says fractures are likely to occur when the truck has low miles, based on owners experiencing fractured shafts at 40, 73 and 375 miles.
The automaker says it is unaware of any accidents or injuries related to the defect.
Chrysler says the 2016 RAM 3500 trucks were manufactured July 24, 2015, through January 7, 2016, and the 2016 RAM 4500 and 5500 trucks were built July 24, 2015, through October 8, 2015.
A dealer will need to replace the entire transfer case when the recall begins this month. With questions, owners of the 2016 RAM 3500, 4500 and 5500 trucks may call Chrysler at 800-853-1403. Truck owners should ask about recall number S48.