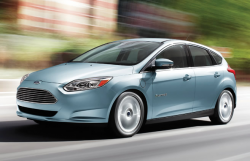 — A Ford power steering lawsuit is hanging on while Ford argues the lawsuit doesn't merit class-action certification.
The Ford power steering lawsuit was filed in 2014 after owners complained about problems in the 2012-2014 Ford Focus and 2010-2014 Ford Fusion. Owners say that without warning, the cars lose power steering and switch to manual steering, a dangerous condition that can occur while driving.
Owners complain it can cost $2,000 for repairs that Ford should pay for due to the alleged defects. The plaintiffs also claim the problem has a bad habit of occurring shortly after the warranties expire, leaving owners to cover repair costs.
The plaintiffs claim electrical problems cause the loss of power steering, specifically electromechanical relays in the steering system, relays that Ford says are not defective.
According to the lawsuit, Ford knew about the Fusion and Focus power steering problems but refused to recall the cars, then after the lawsuit was filed, the plaintiffs say Ford did recall at least some of the cars. However, the plaintiffs allege it took a push from the lawsuit to convince the automaker to order a recall.
In April 2015, Ford recalled the 2013-15 Ford Fusion to repair steering gear bolts that could break due to corrosion, and in May 2015, Ford recalled its 2011-2012 Ford Fusion cars after finding an electrical connection in the steering gear could leave a driver with nothing but manual steering.
The plaintiffs argue Ford changed from a hydraulic system to the electromechanical system in an attempt to increase fuel economy by taking pressure off the engine, but instead the changes created the power steering problems.
In addition to denying the electromechanical relays are defective, Ford says the claims should be dismissed because the alleged defects, if they exist, occurred during manufacturing at different times and with different models. Due to this, the plaintiffs cannot claim a "common defect" is associated with the Focus and Fusion cars.
In asking the judge to deny class certification, the automaker says some of the plaintiffs shouldn't even be included because those people bought used cars or purchased them for business purposes, so by law those folks have no legal right be part of a class-action lawsuit.
This isn't the first time Ford has argued the power steering class-action lawsuit shouldn't proceed. In 2015, U.S. District Judge Lucy H. Koh dismissed the suit after saying it was "unduly burdensome," but she gave the plaintiffs 30 days to amend the complaint. They did just that, and Ford promptly filed another motion to dismiss the power steering lawsuit, but the judge denied Ford's motion.
The Ford power steering lawsuit was filed in the U.S. District for the Northern District of California - William Philips et al v. Ford Motor Company.
The plaintiffs are represented by Baron & Budd PC, Grant & Eisenhofer PA, and Spilman Thomas & Battle PLLC.
Read what owners say about the Ford Fusion and Ford Focus.