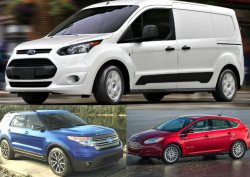 — Ford is recalling about 8,557 cars, trucks, vans and SUVs in three recalls to fix three different problems. The largest recall includes about 6,600 new trucks and SUVs.
Ford F-150, Ford Explorer
Ford says about 6,600 model year 2016 Ford F-150 and Explorer vehicles are called back to dealers because the back of the driver's seat could fail in a crash. The automaker says the seatback may not have been properly welded and could fail to hold the driver in a crash.
Although it's a dangerous condition, Ford says there haven't been any accidents or injuries related to the faulty welds.
The recalled 2016 Ford F-150 trucks were built between February 17 and February 25, 2016, and the Explorer SUVs were built February 17 through March 7, 2016.
Ford says 6,661 of the vehicles are located in the U.S., 1,199 are in Canada and 132 of the vehicles are in Mexico.
The recall is expected to begin August 15, 2016. Ford dealers will inspect the driver's seatback frame and replace it if needed.
Ford Explorer and F-150 owners may contact Ford at 800-392-3673 and refer to recall number 16C11.
Ford Focus Electric
About 950 Ford Focus Electric cars need new transmission differential assemblies to make sure the transmissions can be shifted into PARK.
The automaker says the 2015-2016 Focus Electric cars have differential pinion shafts that can wear out and cause the shafts to fracture. If this occurs, the car will lose motive ability without warning and lose the ability of the transmission to shift into PARK.
All of this can occur without warning, but Ford says it doesn't know of any accidents or injuries related to the defect.
The automaker says a total of 949 cars are involved in the recall, 865 in the U.S. and 66 in Canada.
Ford dealers will install a new transmission differential assembly equipped with a friction-reducing coating on both the pinion shaft and pinion gear bores.
The recall is expected to begin July 25, 2016. Owners may contact Ford customer service at 866-436-7332 and use recall number 16S28.
Ford Transit Connect
About 600 model year 2016 Ford Transit Connect vans need their brake hydraulic control units replaced to keep all kinds of major problems from occurring.
Ford says the faulty control units can cause problems with electronic stability control, roll stability control, anti-lock braking, emergency brake assist, curve control, trailer sway control and traction control.
Any of those events can occur without warning and cause serious problems with controlling the vans, although no accidents or injuries have been reported.
The recalled Transit Connect vans were manufactured February 22, 2016, through April 9, 2016, with 605 vans located in the U.S. and three in Canada.
Ford dealers are expected to replace the brake hydraulic control units in the vans.