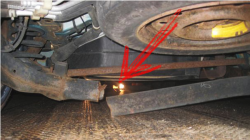 — Government regulations say automakers must repair recalled vehicles to make sure consumers are safe. But consumer safety advocates say that is not happening in the case of some 1998 – 2003 model year Ford Windstar minivans with rear axles prone to breaking due to rust.
And, they say all consumers should be worried that the National Highway Traffic Safety Administration doesn't see this as a problem.
In 2010 Ford first recalled about 528,000 Windstars, saying a "completely fractured rear axle may lead to a loss of vehicle control" with "little or no warning." But the automaker told the N.H.T.S.A. not all of them would get a new axle as the result of a recall.
Ford said it would only replace an axle only if it was cracking.
Otherwise, it would install supporting brackets that would "extend axle durability in the presence of corrosion."
The brackets were intended as a safety device "to prevent any future axle fractures from causing a loss of control," John Cangany, a Ford spokesman said in an email. "Even with the brackets installed, there was still a potential for the axle to continue to corrode and crack."
The federal regulators thought that was okay.
"The support brackets that were the recall remedy, eliminated the safety-related consequence if they were properly installed," Bryan Thomas, the agency's director of communications, said recently in a statement.
But federal regulations require a repair that will eliminate danger. A couple of brackets to prevent "a loss of control," doesn't do that, said Joan Claybrook, a consumer advocate and former head of Public Citizen who was in charge of the N.H.T.S.A. from 1977 to 1981. If Ford's recall is going to be "lawful" all Windstars should get a new axle, Claybrook said.
The problem is that Ford isn't replacing the axle, but instead trying to prevent a "catastrophic result" if it breaks, said Allan J. Kam, a safety consultant from Bethesda, Md., who was the senior enforcement lawyer for the agency before retiring in 2000.
Ford's position is that there won't be any "catastrophic results." Just before the recall in 2010, a Ford spokesman said even if an axle broke the driver should be able to maintain control.
But shortly after the 2010 recall was announced, federal regulators took the unusual step of urging owners not to delay getting the problem fixed. The reason was a crash that killed Sean Bowman, a 28-year-old Massachusetts man.
Karen Aldana, a spokeswoman for N.H.T.S.A., told The New York Times the agency decided to issue the warning after inspecting the Windstar in which Bowman died and concluding there was a concern an axle failure could increase the chance of a crash.
Some Windstar owners are angry at Ford and the safety agency for the way the recall has been handled. The agency has at least 75 complaints from owners who had the reinforcement brackets installed only to have the axle break anyway – in some cases within a year.
"I heard a loud pop. The van started to feel funny in the rear," a Clinton, Iowa owner wrote in April, 2011. "I looked at the rear axle and it had snapped in half. Needless to say this was inspected in January for this very same recall. My family was with me and could have been injured or killed because of this."
Ford's use of reinforcing brackets did nothing but "delay the inevitable," a Plainsboro, New Jersey, owner wrote federal regulators last year. "I don't know how many more of these death traps are out there, where people believe they had the problem corrected."
Last year federal regulators saw some of those owner complaints and – without opening a public investigation – quietly asked Ford about it.
As part of that inquiry, Ford and regulators inspected three Windstars involved in crashes. The conclusion was that the axles broke because the brackets were not properly installed.
Were the crashes caused by the rear axle breaking?
Ford's report said "the root cause of the accidents was inconclusive" and there were no details about the seriousness of the crashes. But the automaker agreed to a new recall to check all the brackets.
If the brackets were not installed properly, the owner would get a new axle at no charge.
But if the brackets were installed properly – even if the axle broke – the owner would not get a new axle.
However, Ford agreed to sell the owner a new axle for $300, about one third of the normal cost.
But even a discount for the axle violates federal regulations because repairs must be free, said Clarence Ditlow, the executive director of The Center for Auto Safety, a non-profit consumer advocacy group.
One of the Windstar owners who is confused and infuriated by the recalls is Bettina Worboy of Columbus, Ohio.
Last October she came out of work and found her 2003 Windstar sagging on one side: the rear axle had quietly broken, a disaster for a family with four children and limited resources.
But, when she got to her home there was a letter from Ford. It said her minivan was being recalled. Ford said it wanted to make sure when the minivan was recalled in 2010 that the supporting brackets were installed properly.
She thought this was great news.
Ford was going to help her.
Her axle broke, so the supporting brackets couldn't have been done properly. It seemed logical.
"I thought it was a blessing," she said in a telephone interview. "I thought it was going to be taken care of one hundred percent."
But a few days later the dealer told Mrs. Worboy that the brackets had been installed properly and even though her axle eventually broke she would not get a free axle.
"My blood was boiling. I was like 'You are telling me the brackets were put on properly? But they didn't do the job?'"
When Ford wouldn't help she finally dipped into a tight, family budget and gave the dealer $300.
"That was our main vehicle to transport all our kids," she said. "So, I couldn't fight it anymore. I had to have it fixed. I have a nice, shiny axle."