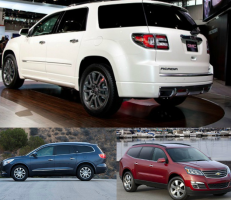 — General Motors will reportedly offer compensation to about 135,000 owners and lessees because of overstating fuel economy on 2016 Buick Enclave, Chevrolet Traverse and GMC Acadia SUVs.
GM determined the SUVs were sold with an overstated fuel economy of 1 to 2 miles per gallon, so compensation will be offered based on the difference between advertised and actual miles per gallon. Estimates are 135,000 customers purchased or leased the SUVs and 40,000 more vehicles are currently used for corporate fleet vehicles.
GM says it discovered the problem while working on new window stickers (Monroney labels) for model year 2017 vehicles. The automaker blames the problem on a simple mistake caused by new emissions software in the 2016 SUVs that should have meant new emissions tests. Instead, the window stickers went out with the SUVs but without the new emissions data printed on the labels.
The Environmental Protection Agency (EPA) is working with GM to guarantee the SUVs are marketed and sold with correct fuel economy estimates. However, the EPA has not announced if it will take legal action against the automaker and the agency hasn't determined any intentional deception by General Motors.
GM says a customer who purchased their SUV will be offered a debit card or an extended service protection plan of 48 months or 60,000 miles. The service plan will kick in after the standard warranty expires. A customer who leased their SUV will be offered a debit card only.
Customers should see letters in their mail after May 25, 2016, but details of each debit card offer will depend on the customer and if the SUV was leased or purchased. Estimates are payment ranges of $450 to $1,500 will be offered based on if the SUV is all-wheel-drive or two-wheel-drive.
The payment amounts were calculated using EPA estimates of 15,000 miles of driving per year with gas prices at an average of $3 per gallon.
GM says corporate fleet customers will be handled separately on a case-by-case basis.
One thing that remains unknown concerns legal issues and the effect accepting compensation could have on filing suit against the automaker. A Florida man already filed a proposed class-action lawsuit against GM concerning his Chevrolet Traverse, but the complaint was filed before GM announced its compensation plans.
Sean Tolmasof, who purchased a 2016 Chevrolet Traverse, alleges he and other GM owners now have SUVs with decreased monetary values because of the window stickers. Tolmasoff claims he wouldn't have purchased the Traverse if he would have known about the 1 to 2 mpg discrepancy.
NHTSA Oversight of GM Extended
The GM SUV fuel economy problems occurred near the same time the National Highway Traffic Safety Administration (NHTSA) sent GM a letter informing the automaker it will be watched closely for another year. NHTSA says it is extending by a year its federal oversight of GM's decision-making concerning safety issues and recalls.
GM agreed to the consent order in 2014 after the mess caused by hiding defective ignition switches for at least 10 years. NHTSA says GM has performed well the past two years and the automaker believes the oversight has helped improve safety.
As part of the 2014 consent order, General Motors must provide written safety reports every month to the government, including for safety issues that don't involve recalls.
Under the terms of the agreement, this will be the third and final year NHTSA will monitor GM.