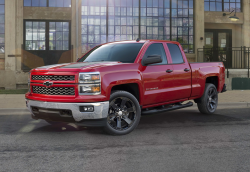 — General Motors is recalling more than 1 million trucks because the seat belts could come loose in a crash and fail to hold the occupants.
GM says the 2014-15 Chevrolet Silverado and GMC Sierra 1500 pickup trucks have flexible steel cables used to connect the seat belts to the body of the trucks.
That cable can break over time due to a driver repeatedly getting into the seat, causing the cable to bend and eventually separate. GM says it discovered the seat belt problem by looking at warranty data, but no accidents or injuries have been reported.
The automaker hasn't released a lot of details, but 895,232 trucks are in the U.S and the rest were sold in Canada, Mexico and several countries in Latin America and the Middle East.
General Motors didn't say when the recall will begin. Dealers will enlarge the side shield opening and install a pusher bracket on the tensioner. If deemed necessary, the dealer will replace the entire tensioner assembly.
Owners who have questions about the Chevrolet Silverado and GMC Sierra 1500 recall should contact Chevy at 800-222-1020 and GMC at 800-462-8782.