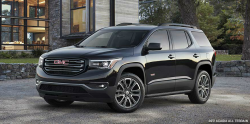 — General Motors is recalling more than 1,862 Cadillac XT5, GMC Acadia and Chevy Malibu vehicles in two recalls, although the vast majority involve 1,844 model year 2017 XT5 and Acadia SUVs that can experience braking problems.
Cadillac XT5 and GMC Acadia Recall
GM says the 2017 Cadillac XT5 and GMC Acadia SUVs are recalled because of hydraulic brake fluid leaks that can leave drivers with diminished braking ability.
In July 2016, a GM engineer noticed warranty data indicating that a front caliper assembly had to be replaced on a 2017 Cadillac XT5 that had only 51 miles on the SUV.
Engineers found an oversized front caliper piston bore had allowed the piston seal to leak hydraulic brake fluid and it was determined the oversized bore can prevent the proper compression of the caliper piston seal.
Akebono, the supplier of the front caliper assembly, told GM a change was made during assembly that caused the oversized bores of the caliper pistons that were machined on April 15, 2016. Those front caliper assemblies were then installed on the recalled SUVs between April 16 to May 9.
GM says a driver will know if the brake master cylinder reservoir leaks 72 percent of the hydraulic brake fluid because a red "BRAKE" light will illuminate.
The 2017 Cadillac XT5 SUVs were manufactured April 16, 2016, to May 9, 2016, and the 2017 GMC Acadia SUVs were built April 19, 2016, to April 22, 2016.
General Motors dealers will inspect the right and left front caliper assemblies for signs of leaking brake fluid and for a Julian date between 6106 and 6109. If the date falls within this range, dealers will replace the brake caliper assemblies. Dealers will also replace the disc brake pads if there are signs of brake fluid leakage.
GM doesn't know when the recall will begin, but Cadillac XT5 owners can call 800-458-8006, and GMC Acadia owners may call 800-462-8782. GM's number for this recall is 16096.
Chevy Malibu Recall
GM says 18 Chevrolet Malibu cars have problems with the fabric of the side-impact airbag cushions that can prevent the airbags from deploying properly in a crash.
General Motors says the fabric can tear when the airbag deploys in a crash, something that can be fixed by replacing the airbag modules.
It's likely the 18 owners have already been contacted, but with questions, call Chevrolet at 800-222-1020 and use recall number 16079.
CarComplaints.com has complaints about the vehicles named in the recalls: