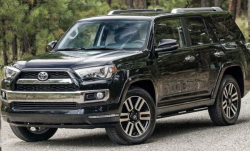 — Gulf States Toyota is recalling 844 model year 2015-2016 Toyota 4Runner SUVs in another recall involving simple labels, similar to many recalls that occur each year for what most would describe as a minor safety issue.
Gulf States says the "load carrying capacity modification" label may be incorrect concerning the "correct added weight of the installed accessories." That little issue is a violation of federal vehicle safety standards.
The recalled 2015-2016 Toyota 4Runners were built September 22, 2014, to March 23, 2016, and all that are equipped with accessories installed directly by Gulf States.
Gulf States said it noticed the problem in March while updating information concerning accessory parts in the system that stores weight information. An investigation found the weight of some of the accessories in the accessory package were not properly calculated.
Gulf States says the problem with the labels is the load carrying capacity modification label is an understatement of added weight.
Gulf States has notified dealers about the recall and customers should be notified in June 2016. Every affected Toyota 4Runner owner will be mailed an accurate label with detailed instructions on applying the new label over the incorrect label. Any Toyota dealer will also install the label free of charge.
Owners of the 4Runner SUVs who have questions should contact Gulf States at 800-444-1074 and give them recall number 16R2.
Gulf States Toyota is not a small player in the world of Toyota vehicles. In the U.S., the company has 154 dealers that sell 13 percent of all Toyota vehicles sold in the U.S.
CarComplaints.com has complaints about the 2015 Toyota 4Runner, 2016 Toyota 4Runner and other model years of Toyota 4Runner SUVs.