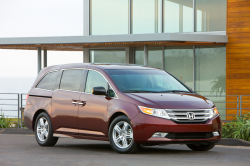 — Honda is recalling more than 641,000 Odyssey minivans for problems related to the seats, although Honda says two recalls are needed because of small differences in the recalls.
The largest recall includes 633,753 model year 2011-2016 Honda Odyssey minivans to fix problems that cause seats to stay unlocked and move around freely.
The second-row outboard seats have release levers for the walk-in feature which folds the seatback and slides the seat forward for access to the third-row seats. Honda says the internal parts have a rough surface that causes problems with the return springs. There are also problems with the amount of grease that was applied and how the grease reacts under different temperatures.
All these issues combined will cause the seat to stay in the unlocked position and able to slide back and forth after returning the seat to its normal position.
In January 2011, Honda received the first warranty claim for a seat not locking into place but couldn't find the cause of the problem.
Four years passed when Honda inspected returned warranty parts related to complaints about second-row outboard seats not locking into place, but engineers could replicate the problem only once. With more seats not locking into place, Honda decided to increase the return spring torque and apply the changes during production, something that seemed to fix the problems.
As of December 16, 2016, Honda has received 689 warranty claims but has not received reports of injuries related to seats not locking into place.
The recalled 2011-2016 Odyssey minivans were built August 17, 2010, to October 1, 2015.
The Honda recall will begin January 23, 2017, when dealers will install an additional bracket and spring to both second-row outboard seats.
Odyssey minivan owners with questions should contact Honda at 888-234-2138. Honda's number for this recall is KD5.
A separate recall involves 7,549 model year 2016 Honda Odyssey minivans that have seat problems but a different repair remedy to fix those problems.
Honda says the minivans have second-row center seats with horizontal adjuster bars that may stick in the unlocked position. This will allow the seats to slide and not lock into place, causing real problems for anyone or anything in the seats, especially during a crash.
The 2016 Honda Odyssey minivans were built September 23, 2016, to October 24, 2016, and all will need the horizontal position adjustment bars replaced.
This Odyssey recall is also scheduled to begin January 23, 2017. Affected minivan owners may call Honda at 888-234-2138 and use recall number KD4.
Read what owners say about their Honda Odyssey minivans: