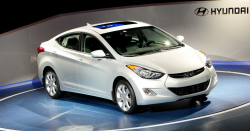 — Hyundai is recalling 64,500 model year 2013 Elantra cars to fix problems with the brake light switches caused by brake pedal stopper pads.
The brake pedal stopper pad is located between the stop light switch and the brake pedal arm. Hyundai believes the brake pedal stopper pad material can deteriorate over time allowing the stop light switch plunger to remain extended when the brake pedal is released.
This will cause the brake lights to stay on continuously and the traction control warning light to stay lit.
The switch can also cause the shift lever to move without depressing the brake pedal, meaning the car can be shifted out of PARK without pushing on the brake pedal.
In July of 2014, Hyundai began to investigate warranty claims involving the replacement of the brake pedal stopper pads for various models. Based on the available information, Hyundai recalled Sonata cars in November of 2015 to fix the switches, then noticed warranty claim rates for certain Elantra sedans gradually increased in the second quarter of 2016.
Even with all the recalls ordered because of brake light switch problems, Hyundai says it is still investigating the supplier and any material changes made by the company.
The Hyundai Elantra cars were built December 1, 2012, to April 30, 2013.
The Elantra recall should begin on September 30, 2016. Hyundai dealers will replace the brake pedal stopper pad with an allegedly improved part.
If you own a 2013 Elantra and have questions about the recall, call 855-371-9460 and ask for information about Hyundai's recall number 146.
Hyundai has had past problems related to brake light switches, but for different reasons. With the Elantra recall, the brake lights can stay illuminated, but with other recalls associated with brake light switches, the brake lights didn't illuminate at all.
In April 2013, Hyundai recalled over 1 million vehicles to replace the same defective switches. The vehicles included in that recall were the 2007-2009 Accent and Tucson, 2007-2010 Elantra, 2007-2011 Santa Fe, 2008-2009 Veracruz, 2010-2011 Genesis Coupe and the 2011 Sonata.
Also in April 2013, Kia recalled 623,000 vehicles to replace the same brake light switches, including in the 2007-2010 Kia Rondo and Sportage, 2007-2011 Kia Sorento, 2007 Kia Sedona, 2010-2011 Kia Soul and the 2011 Kia Optima.
Then in September 2015, the Hyundai Accent was recalled to fix brake light switch problems.
The defective switches were causing the brake lights to fail, the cruise control to stay activated when it wasn't needed, problems with the push-button start feature and the switch caused the gear shifter to get stuck in PARK.