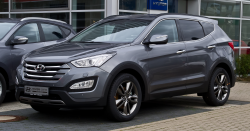 — Hyundai has agreed to settle a Santa Fe engine stall lawsuit filed in 2014 after owners complained about engines stalling at any speeds while driving.
The lawsuit was filed on behalf of U.S. consumers who own or lease, or previously owned or leased 2010-2012 Hyundai Santa Fe SUVs equipped with 3.5-liter engines.
Although Hyundai says it will settle the lawsuit, the automaker says the SUVs aren't defective and the case will be settled only to avoid a long and costly court battle.
Plaintiffs Julia Reniger and Greg Battaglia claim 2010-2012 Hyundai Santa Fe SUVs have defects that cause problems with controlling the SUVs when the engines stall.
Santa Fe owners complain about problems with getting straight answers from dealers about the issue, with dealers typically telling owners the problem can't be replicated.
The lawsuit also alleges Hyundai installed monitoring devices in the SUVs but didn't tell owners about the devices.
One of the points set forth in the lawsuit concerns a "service campaign" issued by the automaker. The plaintiffs say dealers received letters describing a condition where Santa Fe SUVs can stall due to heavy loads on the alternators. The strain on the alternators then cause engine rpm to decrease to the point of the engines stalling without warning.
Although the dealer letter says it takes a specific set of conditions for the event to occur, the plaintiffs say that's not true because of how easily the SUVs stall while driving.
Hyundai Santa Fe Proposed Settlement Terms
Under the terms of the settlement, Hyundai has agreed to give owners up to $2,000 for use toward the purchase of a new vehicle and reimburse owners who have paid to fix the stalling problem. The automaker says it will also repair the SUVs for free when a customer complains about engine stall.
Although the settlement agreement hasn't been finalized by the court, a hearing before the judge has been scheduled for August 2, 2016.
The Hyundai Santa Fe engine stall lawsuit was filed in the U.S. District Court for the Northern District of California - Reniger et al. v. Hyundai Motor America et al.
The plaintiffs are represented by Glancy Prongay & Murray LLP.
Read complaints from Hyundai Santa Fe owners about stalling engines: