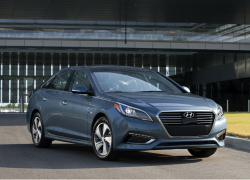 — The 2016 Hyundai Sonata may be new, but it's already under investigation by the National Highway Traffic Safety Administration (NHTSA) after a reported brake pad fire.
With about 8,000 cars at risk, NHTSA says it needs to know why four reports indicate the rear brakes locked even though the brake pedals weren't applied.
One Hyundai Sonata owner says a fire occurred in the area of the right rear wheel, leading NHTSA to look at why Hyundai issued a technical service bulletin (TSB) in May 2016 about the brakes. Hyundai issued the TSB to dealers concerning a problem with the electric parking brake control logic that could cause the rear brake pad to stay in contact with the brake rotors.
The automaker says the pads can lock in place after the system completes a self-diagnostic check, causing the brakes to drag and heat up.
Owners of 2016 Hyundai Sonatas complain about the dangers they face when the brakes lock without warning.
"Emergency brake self engaged while entering roadway causing car to be immobile and smoke poured from rear of car. Was nearly T-boned then it suddenly accelerated." 2016 Hyundai Sonata owner / Toms River, New Jersey
The owner who reported the fire said the problem occurred twice, the first time only 18 days after they bought the car.
"Rear brakes failed to properly function while the vehicle was in forward motion on a highway. Both rear brakes locked up without operator pressing on brake petal. Both rear brakes and wheel got red hot causing passenger side rear brakes caught on fire. No brake warning lights was activate. This event took place twice, once on 1/27/16 (18 days after purchase) and 2nd time 3/7/16. (30 days after it was allegedly repaired.)" - 2016 Hyundai Sonata owner / Middleburg, Florida
Although Hyundai sent dealers a bulletin about the problem, NHTSA will need to confirm if the electric parking brake control logic is the real culprit. Based on what safety regulators find, the investigation could be dropped, upgraded or Hyundai may need to recall all the affected cars.
CarComplaints.com will update our website with results of the 2016 Hyundai Sonata investigation.
Read owner-reported complaints about the 2016 Hyundai Sonata and other model years of Hyundai Sonata cars.