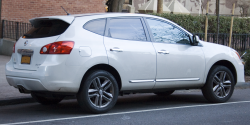 — The 2013 Nissan Rogue won't be recalled after the National Highway Traffic Safety Administration (NHTSA) determined alleged problems with airbags likely aren't related to a safety defect.
NHTSA opened the Nissan Rogue investigation in January 2015 after complaints of airbags that deployed late or didn't deploy at all. One Rogue owner told NHTSA about a crash where the side airbags failed to deploy and the driver-side frontal airbag didn't deploy until the driver got out of the SUV.
Another Nissan Rogue owner told of a crash where the side airbags deployed without air in the bags, and a driver-side frontal airbag didn't deploy until the driver exited the SUV.
Saying the complaints are "unusual," NHTSA wanted to know if there were defects in 195,000 Nissan SUVs.
Safety regulators specifically looked at the airbag inflators, electrical wiring harnesses, connectors and the systems behind how the airbags deploy. Nissan responds it doesn't believe there is a problem, and investigations of the Rogue SUVs determined the airbags deploy as intended.
For its part, NHTSA reviewed complaint data on the 2013 Rogue and other model years of the SUV, including various models from Infiniti. Safety regulators also say they tested driver-side airbag inflators and checked how many crashes may have involved the airbag problems.
The government says it also looked over crash-test data for the Rogue but saw nothing out of the ordinary.
NHTSA says no investigation is needed because safety investigators couldn't find evidence of a complaint trend concerning the 2013 Nissan Rogue airbags. However, the government says it will monitor future complaints and take action if warranted.
Have a complaint about your Nissan Rogue or any Nissan vehicle? Add your complaint here, about any vehicle.
CarComplaints.com has owner-reported complaints about the 2013 Nissan Rogue and other model years of Nissan Rogue SUVs.