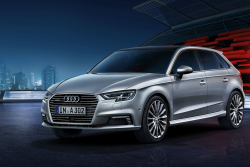 — Audi is recalling nearly 95,000 vehicles in the U.S. and Canada because a software error can cause the side marker lights, parking lights and headlights to fail.
Audi names the vehicles as the:
2015-2017 Audi Q3
2016 Audi TT (Roadster)
2016 Audi A3 Cabriolet
2016 Audi A3
2016 Audi A3 (e-tron)
2016-2017 Audi TT (Coupe)
2017 Audi A4
2017 Audi Q7
The automaker started receiving complaints about lighting failures in June 2016 and launched an internal investigation into the matter. Audi says the problem is caused because of a software update meant to save energy used for lighting.
Well, it worked, because it makes the lights go completely out when the vehicles are locked at the same time the parking lights are on.
There are about 79,000 recalled Audi vehicles in the U.S. and about 14,900 in Canada.
Audi doesn't know when the recall will begin, but dealers plan on uploading revised software to correct the errors.
Owners of the recalled vehicles may call 800-253-2834 and refer to recall number 97CB.
CarComplaints.com has complaints about the recalled Audi vehicles: