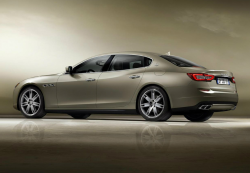 — Maserati is recalling more than 13,000 cars as part of an expanded recall from Fiat Chrysler Automobiles (FCA) to fix confusing monostable gear shifters like the one under recall in the death of actor Anton Yelchin.
Maserati says the 2014 Quattroporte and Ghibli are equipped with eight-speed automatic transmissions that use a monostable gear selector unlike any kind of standard gear shifter.
Instead of feeling "notches" in the gear shifter when moving a standard-type shifter, the monostable gear shifter always resets back to the center. This means an owner must look at indicator lights to know if the vehicle is in PARK or any other gear.
Chrysler recalled more than 1 million vehicles in April 2016 after a federal investigation determined the gear shifters were too confusing for consumers. Fiat Chrysler had always argued the shifters worked as intended and owners were aware the electronic shifters were completely different than any other shifters.
The National Highway Traffic Safety Administration says if the driver-side door is opened when the shifter is not in PARK, a chime and message warns the driver. Additionally, the Start/Stop push-button blocks the engine from being shut down in a normal fashion if the transmission is not in PARK.
However, the government determined the system doesn't protect a driver who intentionally leaves the engine running or a driver who does not recognize the engine keeps running after an attempted shut-down.
Investigators also said testing showed the monostable shifter doesn't do a good job in providing gear selection information, increasing the odds of unintended gear selection.
Maserati says the electronic gear selector can mislead owners about which gear the car is in and may not provide enough warning when the driver's door is opened and the car is not in PARK.
The recalled 2014 Maserati Quattroporte and Ghibli cars were built June 1, 2013, to February 28, 2014.
Maserati is working on a fix that will involve updating software but the automaker doesn't know when things will be ready to go. Owners will be mailed an interim notification on July 1, 2016, and a second notice will be mailed when the software is available.
Owners of the 2014 Maserati Quattroporte and Ghibli may contact the automaker at 201-510-2369 and ask about recall number 307.
How to Use a Monostable Electronic Gear Shifter