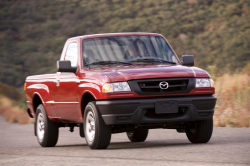 — Takata airbags have caused Mazda to order another recall, this time to replace airbags in 3,700 Mazda B-Series trucks. Mazda decided to recall the 2007-2009 trucks after Ford recalled its Ranger trucks in June because the Mazda trucks are very similar to the Rangers.
Mazda has been forced to recall waves of vehicles because of Takata's failures. In May 2016, the automaker recalled more than 730,000 vehicles because of the dangerous airbags, and prior to that recall B-Series trucks were recalled in February.
Hundreds of thousands of Mazda vehicles were recalled before February 2016, something that caused Mazda to stop using Takata airbags with ammonium nitrate.
Mazda says more than 3,700 B-Series trucks will be recalled in two "zones" of the country to replace the passenger frontal Takata airbag inflators.
The airbag inflators are at risk of exploding into a hail of burning metal because of a chemical called ammonium nitrate used to deploy the airbags. The ammonium nitrate should create a small extremely fast controlled explosion to deploy an airbag, but the chemical can become unstable due to age, heat and humidity. The chemical then creates a large explosion that ruptures the metal inflator that contains the chemical.
Mazda B-Series Takata Airbag Recall (Zone A)
B-Series trucks built June 6, 2006, to January 22, 2009, are recalled if they were originally sold or ever registered in the following zone A areas:
Alabama, California, Florida, Georgia, Hawaii, Louisiana, Mississippi, South Carolina, Texas, Puerto Rico, American Samoa, Guam, the Northern Mariana Islands (Saipan) and the U.S. Virgin Islands.
Mazda B-Series Takata Airbag Recall (Zone B)
Mazda says unless included in zone A above, B-Series trucks built February 21, 2006, to April 28, 2008, are recalled in these zone B areas:
Arizona, Arkansas, Delaware, District of Columbia, Illinois, Indiana, Kansas, Kentucky, Maryland, Missouri, Nebraska, Nevada, New Jersey, New Mexico, North Carolina, Ohio, Oklahoma, Pennsylvania, Tennessee, Virginia and West Virginia.
The B-Series truck recall is expected to begin August 16, 2016, when dealers will replace the passenger frontal airbag inflators.
Mazda truck owners may contact Mazda at 800-222-5500 and ask them about recall number 9616F.