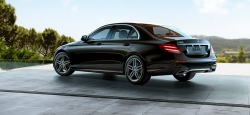 — Mercedes-Benz is recalling more than 6,800 cars to fix problems that can cause the engines to stall. The automaker says it learned of the problem in July 2016 when a car experienced the problem during internal testing.
In August, Mercedes engineers determined the wiring harness was damaged by high local loads on the rear seat bench seat frame caused from being pinched between the frame and the wiring harness.
Engineers say a "high local load" can be something as simple as pressure from the knee of a passenger that can move the seat frame downward and damage the wiring harness. That harness is what controls power to the fuel system control unit.
If the wiring harness is damaged, all kinds of parts can fail including the fuel pump, the fuel tank pressure sensor and the gas gauge, depending on which wires are damaged. The car will stall if the fuel pump fails to send gasoline to the engine and leave a car stalled on the road without any warning.
All the recalled E300 and E300 4Matic cars were built December 10, 2015, to June 30, 2016.
Mercedes-Benz started mailing recall notices on October 28 with instructions to get the cars to dealerships so the wiring harness routing can be changed.
Owners of 2017 Mercedes-Benz E300 and E300 4Matic cars may contact the automaker at 800-367-6372.