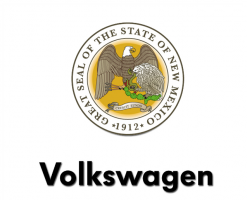 — New Mexico Attorney General Hector Balderas has filed a lawsuit against Audi, Porsche and Volkswagen after accusing VW of breaching the trust of New Mexico consumers.
The lawsuit was filed after Volkswagen admitted its "clean diesel" cars have been emitting illegal amounts of nitrogen oxides since at least 2008.
Saying he wants to take as much money as possible from Volkswagen, Balderas claims the automaker spent millions in advertising dollars for the purpose of lying to New Mexico consumers.
New Mexico authorities estimate up to 10,000 VW cars in the state have emissions defeat devices, all sold during seven years of false advertising paid for by Volkswagen.
The emissions lawsuit alleges the automaker put on a seven-year charade to fool New Mexico consumers into believing diesel cars sold by Volkswagen were better for the environment compared to other vehicles.
Saying the cars were "rigged" to deceive and mislead car buyers, the lawsuit says New Mexico VW owners have spent years driving cars that spewed nitrogen oxides up to 40 times beyond the legal limit.
The lawsuit calls the Volkswagen Jetta a "noxious, regulation-defying impostor on U.S. roads" because the marketing for the car was based on lies.
The Jetta was proudly marketed as the 2009 "Green Car of the Year" by Green Car Journal, an honor Volkswagen exploited in its advertising. The Journal later took away that award after Volkswagen admitted its emissions sins (after getting caught), but damage from the false honor was already done.
New Mexico says the Fraud Recovery Strike Force will work to get all the money possible from Volkswagen for New Mexico taxpayers and consumers. Saying VW preyed upon hard working people to convince them to purchase diesel cars that were advertised based on false claims, the attorney general says Volkswagen's behavior is completely "unacceptable."
The lawsuit accuses Audi, Porsche and Volkswagen of violating the Air Quality Control Act, the Unfair Practices Act and being a public nuisance since 2008.
The New Mexico Volkswagen emissions lawsuit was filed in the First Judicial District Court, County of Santa Fe - State of New Mexico, ex rel. Hector Balderas, Attorney General v. Volkswagen Group of America, Inc.
New Mexico Attorney General Hector Balderas will be assisted in the case by Grant & Eisenhofer.