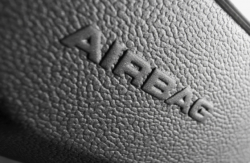 — ARC Automotive is in more trouble with the National Highway Traffic Safety Administration (NHTSA) after safety regulators accused the airbag manufacturer of running away from its responsibilities to the government and the public.
In July 2015, an ARC airbag investigation was opened when NHTSA started looking at airbag inflators used in 420,000 model year 2002 Chrysler Town and Country minivans and 70,000 model year 2004 Kia Optima sedans.
Safety regulators learned about two people who were injured in Chrysler and Kia vehicles, with one woman suffering from shrapnel wounds to her chest. Another ARC airbag inflator explosion caused the airbag plate to break apart, striking the woman in the chin. She suffered a broken jaw in three places and spent over three months in a trauma hospital.
Then in August 2016, NHTSA upgraded the investigation after the death of a Canadian woman from an exploding ARC airbag inflator. U.S. safety regulators were contacted by Canadian authorities concerning a fatal crash of a 2009 Hyundai Elantra where the airbag inflator exploded just like in the previous events.
Canadian officials said the crash was low-speed and should not have killed the woman.
ARC didn't get off to a good start with NHTSA when the Canadian fatality occurred because ARC failed to file a report about the death. Instead, U.S. safety regulators learned the news from Hyundai and authorities in Canada.
Unlike the Takata airbag inflators that have killed and injured people, the ARC driver airbag inflators are a hybrid design that fills the airbag by releasing an inert gas mixture stored in the inflator at high pressure.
Takata airbag explosions have been partly blamed on inflators that can allow moisture to enter and alter the explosive chemical inside the inflators. But according to ARC, its inflators are hermetically sealed to isolate the gas and chemical from external atmospheric conditions such as moisture.
NHTSA told ARC that safety regulators have serious questions about the safety of eight million airbag inflators used in vehicles manufactured by Fiat Chrysler, General Motors, Hyundai and Kia. Specific concerns have also been raised about the 2004 Kia Optima because the ARC airbag inflator in the Optima is nearly identical to the inflator that exploded in the Canadian Hyundai Elantra.
The safety agency says it's tired of ARC repeatedly ignoring deadlines to answer questions and provide data about the exploding inflators.
NHTSA told ARC the airbag company has an obligation to provide information to safety regulators, but lawyers for ARC say it has no obligation to do anything it doesn't want to do. In addition, the safety agency says ARC has done nothing to put a plan in place to test the safety of the inflators.
Considering NHTSA is in no mood to be pushed around after the Takata airbag disaster, safety regulators have the option of fining ARC $21,000 for each day the airbag company ignores deadlines. NHTSA also says a public hearing may be ordered to allow consumers to gripe about ARC's airbag inflators and business practices.