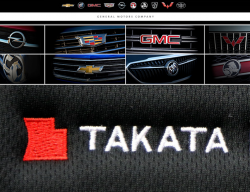 — General Motors won't be required to recall at least 2.5 million vehicles to replace Takata airbag inflators if the automaker can prove by August 31, 2017, that the passenger-side inflators are safe.
In May 2016, Takata announced millions of airbag inflators needed to be replaced to protect vehicle occupants from hot flying metal when the airbags deploy.
The airbag inflators contain ammonium nitrate, a chemical used to create a small explosion to deploy the airbags. But it's that chemical responsible for at least 16 deaths and 140 injuries worldwide caused when the airbags deploy with such force the metal inflators explode into shrapnel.
The affected inflators don't contain a drying agent called a desiccant, used to protect the ammonium nitrate from moisture, but GM says this doesn't matter because the design and installation of the inflators makes the GM vehicles unique among automakers.
The petition says the inflator in a GM vehicle is different than what is found in cars from other automakers, primarily because of how the inflator is packed in the instrument panel to protect the ammonium nitrate from moisture. In addition, the airbags allegedly have more venting and special propellant wafers unique to GM vehicles.
The affected Takata inflators are types "SPI YP" and "PSPI-L YD" installed in the following 2007-2011 vehicles:
2007-2011 Chevrolet Silverado 1500
2007-2011 Chevrolet Avalanche
2007-2011 Chevrolet Tahoe
2007-2011 Chevrolet Suburban
2007-2011 GMC Sierra 1500
2007-2011 GMC Yukon
2007-2011 GMC Yukon XL
2007-2011 Cadillac Escalade
2007-2011 Cadillac Escalade EXT
2007-2011 Cadillac Escalade ESV
2009-2011 Chevrolet Silverado 2500 and 3500
2009-2011 GMC Sierra 2500 and 3500
Two areas of the country are labeled as "zones," but General Motors doesn't say which specific vehicles correspond to the two different zones:
Zone A (Certain 2007-2011 Vehicles)
Alabama, California, Florida, Georgia, Hawaii, Louisiana, Mississippi, South Carolina, Texas, Puerto Rico, American Samoa, Guam, the Northern Mariana Islands (Saipan) and the U.S. Virgin Islands.
Zone B (Certain 2007-2008 Vehicles)
Arizona, Arkansas, Delaware, District of Columbia, Illinois, Indiana, Kansas, Kentucky, Maryland, Missouri, Nebraska, Nevada, New Jersey, New Mexico, North Carolina, Ohio, Oklahoma, Pennsylvania, Tennessee, Virginia and West Virginia.
Because all Takata airbags without the drying agent must be recalled by December 31, 2016, GM was concerned because a current study by research company Orbital ATK won't be completed until August 2017.
The study will allegedly prove if the GM vehicles are safe, at least for the time being. GM doesn't want to recall the vehicles because engineers are convinced the airbags will be safe until December 31, 2019.
The automaker says there have been 44,000 deployments of these Takata airbags and no inflators have ruptured. Another 1,055 inflators have been tested in a lab and no ruptures were observed.
General Motors is looking at a huge expense if more recalls are ordered, especially after all the money the automaker has lost because of selling cars with defective ignition switches for 10 years. If General Motors recalls all 6.8 million Takata airbag inflators, it will likely cost $870 million to get the job done.
NHTSA says it wants to give GM an opportunity to provide more evidence and data that shows the vehicles do not need to be recalled. The automaker has until August 31, 2017, to provide the data, but GM will be required to provide monthly updates to NHTSA about the airbag inflator tests.
To say that the government gave GM a break is an understatement because according to federal regulations, petitions must be filed within 30 days of a defect determination. However, the government let GM off the legal hook by allowing the automaker to file the petition on November 15, 2016, months past the required deadline.
Because Takata made a defect determination about the airbags on May 16, 2016, GM's petition should have been filed by June 15, 2016.
NHTSA says it is granting this "extraordinary relief" because of the "unique circumstances" surrounding the Takata recall and the GM vehicles. But safety regulators say their decision stands alone and should not be viewed as setting a precedent for any case. In addition, NHTSA says the 30-day filing deadline still applies.
Although the government has granted the petition, NHTSA says it retains the right to deny the petition any time before August 31, 2017.
CarComplaints.com has complaints about the General Motors vehicles listed in the Takata airbag recall delay.