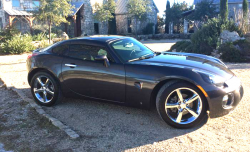 — The National Highway Traffic Safety Administration (NHTSA) has received a petition to investigate alleged airbag system defects in 2006-2010 Pontiac Solstice and 2007-2010 Saturn Sky cars.
The petitioner, Troy Lyman, claims the passenger sensing system sensor mats can break and cause the passenger airbags to fail in a crash.
In his defect petition, Mr. Lyman says 933 complaints have been submitted to NHTSA about the disabled passenger airbags, not only on the Solstice and Sky but also several General Motors vehicles.
The petition seeks an investigation into specific problems that allegedly occur when the passenger seat sensor mat kinks, folds and eventually breaks. This can cause the passenger airbag warning light to illuminate indicating the airbag system is turned off.
Based on complaints submitted to CarComplaints.com, owners of Saturn Sky and Pontiac Solstice cars say the problem is both a safety issue and an expensive issue.
"As complained by most Saturn Sky owners this should be recalled. HUGE SAFETY ISSUE!! Is it really going to take more deaths to have this considered "re-callable"? I now have both airbag lights on and estimated cost of repairs is close $1500." - 2007 Saturn Sky owner / Houston, Texas
"Yes, the car is older (2007), but it has been garage kept and had only 12,000 miles when the failure occurred. Not sure how many of those miles included a passenger actually sitting in the passenger seat (~60% = 7200mi?). Hard to believe the switch could fail with so little use, even harder to believe it costs $700 parts + labor (as quoted by the dealer)." - 2007 Saturn Sky owner / Tyrone, Pennsylvania
The expense issue doesn't get any better for Pontiac Solstice owners, at least based on repair price quotes ranging from $700 to $1,050.
"On the right side airbag is not working, I had it checked out and they said it would be 1,050 dollars to fix it." - 2007 Pontiac Solstice owner / Annapolis, Maryland
"This should be recalled because it is a safety issue because the passenger air bag is now inoperative. there should have been an ON OFF switch installed and the 700 dollars the dealer quoted me to fix this problem is absurd. he could not guarantee this problem would not return." - 2007 Pontiac Solstice owner / Fayetteville, North Carolina
Mr. Lyman's petition claims the break in the sensor mat will cause the circuitry of the mat to fail until expensive repairs are performed.
NHTSA says it will investigate the allegations to either grant or deny the petition to investigate. If the safety agency determines there is cause to further research the alleged defects, the government will open an official investigation.
CarComplaints.com will update our website with NHTSA's decision.
Read owner-reported complaints about the Pontiac Solstice and Saturn Sky: