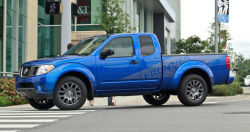 — Nissan Frontier side airbag deployments have led to a proposed class-action lawsuit alleging the Frontier side airbags deploy for no reason. The lawsuit says the 2011-2012 Nissan Frontier trucks are dangerous because of the side airbags and Nissan refuses to fix the problems.
Plaintiff Bobette Brantley says the side airbags deploy in the trucks without need of a crash, causing a safety hazard to occupants and making the trucks unsafe to drive until repaired. Further, Brantley claims Nissan won't cover the damages under warranty and refuses to reimburse owners who must pay out-of-pocket for repairs.
In addition to the expense of repairing the deployed airbags, the lawsuit alleges deployment of the side airbags distract drivers and increases the chance of an accident.
Brantley claims the airbag system in the Frontier is too sensitive and not suitable for off-road conditions, especially since the side airbags deploy during routine driving on normal roads.
Nissan says the Frontier side curtain airbags were designed to inflate during "certain types of rollover conditions, or near rollover conditions." However, the plaintiff says programming the system to recognize "near rollover conditions" means the system is too sensitive and triggers the airbags without cause.
Nissan Frontier owners have complained to the National Highway Traffic Safety Administration about side airbags deploying when they shouldn't and causing injuries to occupants.
"I think my foot was on the brake, we were maybe going 20 miles an hour when my side airbags exploded. Seat air bags and front airbags fortunately did not explode. I received mild burns and bruises on my face. My 6 Y.O. red, hurt on his chest. 11 Y.O. lost his hearing temporarily and red stinging ear. Other child, 8, uninjured as she was bending over putting on her shoes as we were coming to a stop, but is afraid to sit up straight in a car now. Wants to lay down on the seat all the time. We had to cut ourselves out of the vehicle with our jack knives." - 2011 Nissan Frontier owner / La Porte, Colorado
Another owner said all it took to deploy the side airbags was hitting a rough patch of road.
"Going down back road, hit a depression, the truck naturally rocked a bit from side to side, side airbags (passenger and driver) suddenly deployed w/a horrendous loud bang, scaring me half to death a long w/my left ear ringing. Ridiculous that it is that sensitive in a 4X4 truck that they advertise navigating rough conditions." - 2011 Nissan Frontier owner / Stillwater, Oklahoma
The plaintiff says Nissan knows about the allegedly defective side airbags but continues to conceal that knowledge from consumers.
The Nissan Frontier side airbag lawsuit was filed in the Superior Court of California County of Los Angeles - Brantley v. Nissan North America Inc. et al.
The plaintiff is represented by the Law Offices of Robert L. Starr and the Law Offices of Stephen M. Harris.
CarComplaints.com has complaints about the 2011 Nissan Frontier, 2012 Nissan Frontier and other model years of Nissan Frontier trucks.