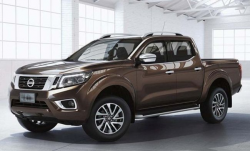 — Nissan is recalling 2016 Frontier trucks with problems that may cause electrical shorts and fires.
More than 1,550 Frontier V6 trucks have problems concerning the starter motor wire harnesses that could make contact with the heat shields. The contact can cause an electrical short in the area of the wire harness, possibly resulting in a fire.
Nissan says a "thermal incident" occurred on a 2016 Nissan Frontier at a plant in Mississippi on March 7, 2016. Engineers found localized damage in an area around the starter wire harness terminal.
An investigation determined the starter wire harness terminal was installed incorrectly, possibly due to an assembly error by a new machine operator. By this time the automaker had found numerous defective parts during an audit of the Frontier trucks and realized some of the trucks were outside Nissan's control.
The automaker says the Frontier trucks were built during a short period from February 29, 2016, to March 7, 2016.
The Nissan Frontier truck recall should begin in April 2016. Your Nissan dealer will inspect and make sure the starter wire harness is in the correct position.
Owners of the 2016 Nissan Frontier can contact the automaker at 800-647-7261.