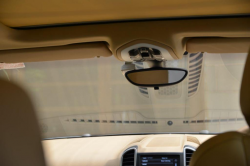 — Porsche beige interior glare lawsuits will be settled after owners sued over cars with beige interiors that allegedly reflect a dangerous glare off the windshields.
Porsche and plaintiffs from different class-action lawsuits agreed to settle the cases after fighting back and forth in the courts since 2015.
One of the lawsuits was filed by Roy Jones and Alyce Rubinfeld, who claim Luxor Beige, Sand Beige and other light-colored dashboards create a blinding glare off the windshields that creates a safety hazard when driving.
The lawsuit alleges Porsche knew the interiors caused problems but refused to tell consumers about the glare, choosing instead to tell drivers to wear sunglasses.
Porsche filed a motion to dismiss the lawsuit by arguing any windshield can reflect a glare from the dashboard if the sun is shining and no owners ever reported they stopped driving their cars because of a glare. The automaker also told the court none of the plaintiffs suffered any injuries or loss from beige interiors and the entire lawsuit was filed based on buyer's remorse.
Without evidence of a safety defect, Porsche told the court the plaintiffs didn't have a case and none of the plaintiffs could even provide dates for when they started having the alleged problems. The automaker also told the judge that just because a few people complained about glare from the interiors, it doesn't mean Porsche hid a safety defect from the public.
After meeting earlier in 2016, all parties decided the best course of action was to settle the cases and save money and headaches on future litigation.
The proposed Porsche beige interior settlement includes all former and current lessees and owners of 2007-2016 vehicles in the U.S. equipped with colored dashboards including Cognac, Luxor Beige, Natural Brown, Platinum Grey and Sand Beige.
The plaintiffs didn't exactly get what they wanted because owners wanted Porsche to recall cars with beige interiors and to pay "damages" to the plaintiffs. How Porsche was supposed to do this is unknown.
Instead, the settlement agreement provides different reimbursement amounts based on model years.
Former lessees and owners of 2007-2010 Porsche models qualify for $50, owners and lessees of 2007-2010 models can receive $75 and current owners and lessees of 2011-2016 Porsche vehicles can get $175.
Attorneys for the plaintiffs will receive up to $790,000 plus expenses.
The court still needs to give final approval to the settlement agreement, with the next hearing scheduled for September 2017.
The Porsche beige interior glare lawsuits were filed in the Superior Court of California Los Angeles County - Roy Jones et al v. Porsche Cars North America, Inc., and the U.S. District Court for the District of New Jersey - Chan v. Porsche Cars North America Inc.
The plaintiffs are represented by Capstone Law APC, the Law Offices of Joseph R. Santoli, the Law Office of Robert L. Starr, and the Law Offices of Stephen M. Harris PC.