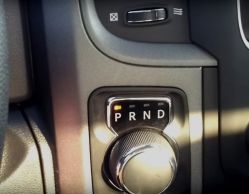 — Federal safety regulators have opened an investigation into allegations that 1 million Ram 1500 trucks and Dodge Durango SUVs could roll away while the vehicles are in PARK.
The 2013-2016 Ram 1500 trucks and 2014-2016 Dodge Durango SUVs are equipped with electronically shifted transmissions and electronic rotary controls for gear selections.
The National Highway Traffic Safety Administration (NHTSA) says it has received at least 43 complaints about vehicles that rolled away after drivers put the transmissions into PARK.
One Ram 1500 owner says with the engine running, they turned the transmission rotary knob to "R" to back out of a garage, then put the truck into PARK and got out of the truck. The truck started moving forward and pinned the driver against the garage door opening.
The driver of a 2016 Dodge Durango says even though the SUV wasn't running and the keys weren't in the vehicle, the Durango started rolling down a steep driveway with two young girls in the SUV. The 11-year-old jumped from the passenger seat into the driver's seat to try to stop the runaway SUV, but it still partially went over a 25-foot embankment. The owner says the kids are now terrified to get in the Durango.
Another Durango owner says they put the SUV into PARK but it rolled forward and trapped the driver between the SUV and garage door. The driver says the incident caused three fractured ribs.
The government says 25 crashes and nine injuries have been reported, and 34 reports say the vehicles started moving while the gear shifters indicated the vehicles were in PARK.
The complaints describe how drivers moved the transmissions into PARK and exited the vehicles, then the trucks and SUVs rolled away and caused all sorts of mayhem.
The majority of the reports say the engines were left running when the vehicles rolled away, but a few reports say the engines were shut off when the rollaway incidents occurred.
NHTSA says that based on the wording in all the reports, none of the trucks or SUVs had the parking brakes engaged when the problems occurred.
Safety regulators opened a separate investigation into Land Rover and Jaguar vehicles for the exact same problems and similar shifters, so NHTSA wants to know if there is a common problem affecting all the vehicles.
Based on the results of the investigation, it's possible 1 million 2013-2016 Ram 1500 trucks and 2014-2016 Dodge Durango SUVs will need to be recalled.
CarComplaints.com will update our website when NHTSA releases its findings from the investigation. Until then, feel free to read what owners say about their Dodge Durango SUVs and Ram 1500 trucks.